Hey there! This post contains affiliate links to products. We may receive a commission for purchases made through these links. But it never influences our product selection process.
Ford Sync phone button offers you greater flexibility to take advantage of many hand-free technologies while driving your vehicle. With this vehicle system, you can activate your phone menu, receive an incoming call or end a call. If the Ford Sync phone button becomes faulty, you can't make and accept a hands-free call. Fortunately, you can solve this issue yourself if you know how to fix it.
Fixing the ford sync phone button is not a complex task. Arrange for the required gadgets and follow the step-by-step guide. Check for the battery pack, Bluetooth, sync button, software update, connected peripheral devices, and internal wiring. If the problem still exists, try the master reset.
Continue reading this guide to learn about the ford sync phone button not responding, including its troubleshooting process with possible causes.
You may also like: 2013 ford escape sync radio no sound
Possible causes of the phone button not working ford sync: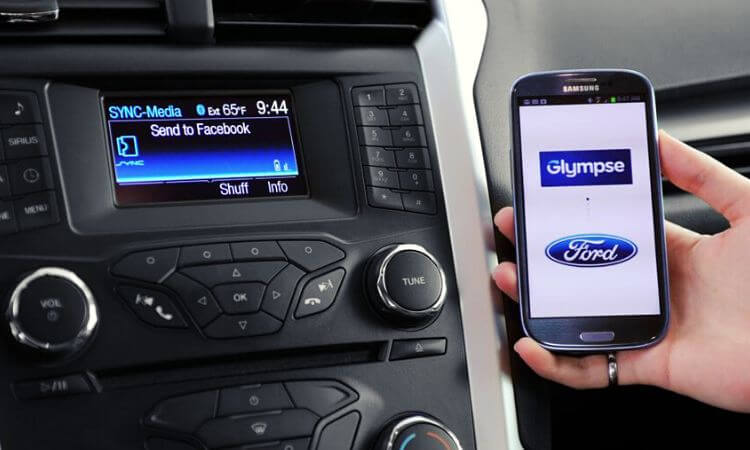 Following are some possible reasons why your ford focus sync phone button is not working.
Problem with Battery pack
Problem in Bluetooth
Faulty sync Button
Outdated Operating Software
Wrong Peripherals connected
Faulty Internal wiring
How to fix the ford sync menu button not working?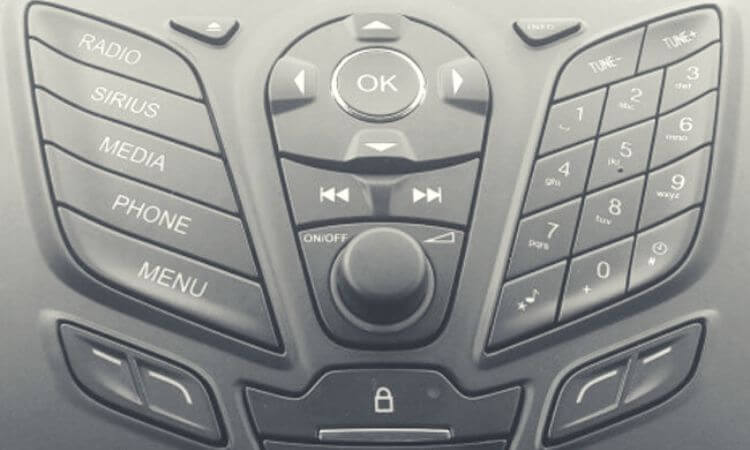 Follow this Step by Step Guide to fix the ford sync phone button not working.  
Things you will need:
Gloves
Screwdriver
Clean and soft cloth
I recommend the NEIKO 01378A Magnetic Screwdriver set for the ford sync radio. This small screwdriver set is compatible with all ford car models.
Possible solutions of each problems:
Problem 1: Check for the Battery Pack
It may be obvious to most, but it can cause ford sync buttons not working.  If your battery pack is at no charge, you will be unable to use the sync button. 
It does not matter how forcefully you push the button with no battery; you will not get a response.
Solution:
Plugin the battery with the charger and leave it for an hour to recharge. Once the battery is recharged, recheck the button; if the problem still exists, go for the next step.
Problem 2: Check for the Bluetooth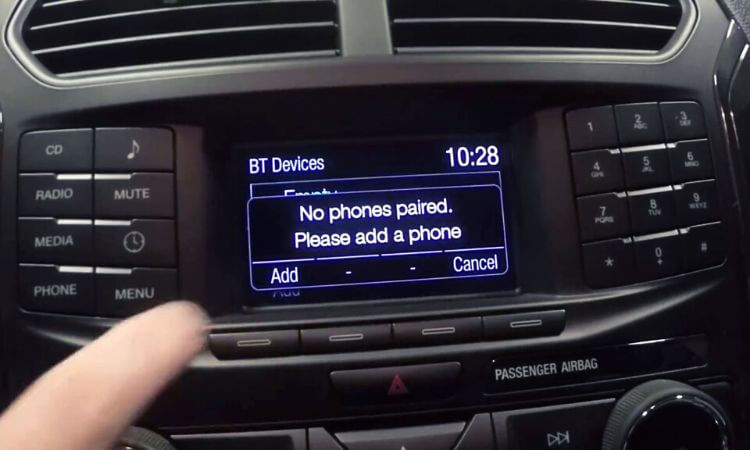 Ford Sync is dependent on Bluetooth technology. If there is a problem with the Bluetooth feature, you will not be able to connect. A problem with the Bluetooth may cause the ford media button not working.
Solution:
Check the phone itself and ensure the Bluetooth logo is visible. If the logo is invisible, it means Bluetooth is inactive.  But if the logo is visible but ford sync not connecting media, you need to find the solution.
First, connect it with some other devices to ensure Bluetooth is working fine. Reconnect it with ford sync if it connects with other devices.
If it fails, then reset the Bluetooth. Turn off the Bluetooth on ford sync and your phone. Manually connect it to the sync and select Bluetooth in your phone settings. Go to available devices and select your phone among the devices.
Problem 3: Check for the button
There is also the possibility that you have a faulty ford sync button. If your ford sync button is dirty or broken, you may experience ford focus sync media not working. If you drive your car with open windows, dust or dirt may accumulate around the button.
Solution:
Check for the damage; if there is no clear damage to your ford sync button, your button is faulty due to dust and dirt.
Take a soft and clean cloth; you can use the cloth for cleaning glasses. Avoid using overly coarse cloth and spraying potentially harmful chemicals. For the proper cleaning, you can also use alcohol or detergent.
Apply the alcohol, leave it for a few seconds, and gently clean it with a clean cloth. Check the ford sync button once you have adequately cleaned.
Problem 4: Check for the software update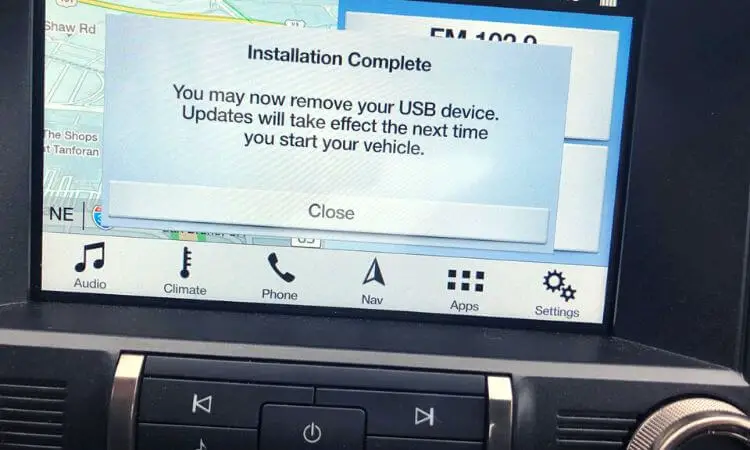 Your software should be updated for proper functioning. If you ignore notifications, you may miss updating software. Ultimately, you may experience the ford fusion sync phone button not working. To access the button function, you will need to update the software.
Solution:
Go to the software menu and check the side icons. If there is an update, you will see a message about "update."
Press the "update" option and wait for a couple of seconds. Once updated, check for the button functioning.
Problem 5: Check for the connected Peripheral devices
Many forget to check connected peripheral devices. But it can be the reason when you experience a ford focus sync phone button not working. 
Other peripheral devices connected to your phone, such as a mouse, keyboard, USB, etc., may disturb button sync function.
Solution:
Go to the Bluetooth menu and check for the connected peripheral devices.
If you have other peripheral devices connected to your phone, remove all of these and connect it again to your ford sync.
Check whether the button is functioning or not.
Problem 6: Check for the internal wiring
Have you done all the above steps but could not get rid of the problem? The final cause that needs to be checked and fixed is ford sync internal wiring.
Ford sync has hidden internal wiring that you will need to check if there is damage; it needs repair or replacement of wires. Otherwise, you will experience the ford fiesta sync button not working.
Solution:
Take a screwdriver and unscrew the screws near the sync ford button.
Pull the assembly up and check for the wiring. If there is damage, arrange for the repair.·   It is a complicated task, only do the repair if you are confident otherwise, call a professional guy to solve the issue.
You may also like: ford remote start not working 1 beep
Fixing the ford sync phone button not responding through Master Reset: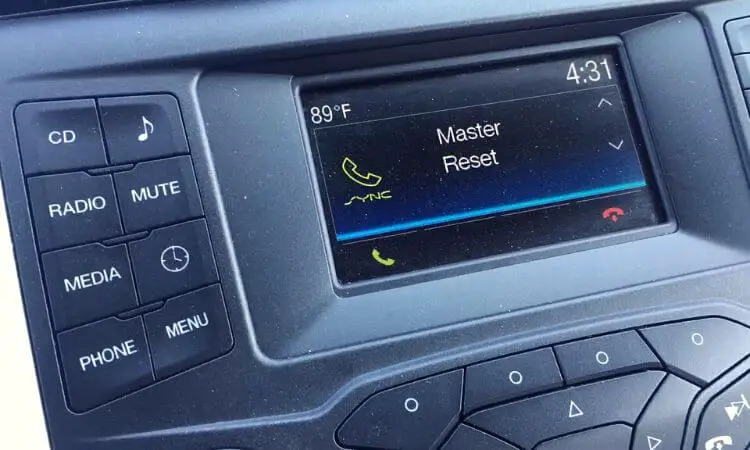 You have tried all, but still, you are experiencing the ford focus phone sync not working? Go for the resetting options to remove the problem to get back your ford sync button properly working.
Master Reset to fix the ford fiesta sync phone button not working
A master reset will surely solve the problem if you have diagnosed and fixed all the above issues. Follow the below simple steps to fix the ford fusion sync phone button not working quickly.
Solution:
Disconnect your phone and turn off Bluetooth.
Go to settings and select the "General" icon.
From the available list, choose the Master reset and push the button. The master reset process will start; wait until the completion of the process.
Once the master reset process has been completed, wait a few minutes and sync the ford sync again.
Check for the button; you will get rid of the problem.
Still Have Questions?
Why won't my phone connect to my ford sync?
A problem with the Bluetooth system can be the main culprit when your phone does not connect to ford sync. Check for Bluetooth or reset it for a quick solution.
Why won't my ford sync Bluetooth turn on?
Improper sync can be the cause when you experience your ford sync Bluetooth not turning on.
Why is my ford fiesta sync not working?
You have a problem with the settings. Switch off the phone and reset it. Remove your phone battery and leave it for a couple of minutes. Insert the battery back and delete the previous sync. Try the new sync. you can check this video
How do I soft reset the ford fusion sync phone button not working?
For soft reset, press and hold the radio power button and seek up button simultaneously for five seconds.
Release both buttons; the screen will turn black, wait for a couple of minutes and check the ford fusion phone button; it will work.
Final Takeaway
Ford sync button may not work due to several causes. If your experience does not worry, you can easily identify and fix the cause. It will save you money and time and make you skilful in maintaining ford sync.