Hey there! This post contains affiliate links to products. We may receive a commission for purchases made through these links. But it never influences our product selection process.
When you try to start your Nissan Altima but are unable to do so because no key has been detected, your previously smooth driving experience quickly turns into the worst one. It might occur for a variety of reasons. But you don't need to worry enough if you know how to troubleshoot the Nissan Altima no Key detected.
Weak or dead keyfob batteries and faulty keys are the two major causes of no key detection issues. You may need replacements to resolve the issues. However, some issues, such as brake switches, dead car batteries, or faulty start buttons, can be the culprit. It is also good to check for these issues.
Let's read and explore how I fix the Nissan Altima, which won't detect key issues.
Why Does My Nissan Altima Say No Key Detected?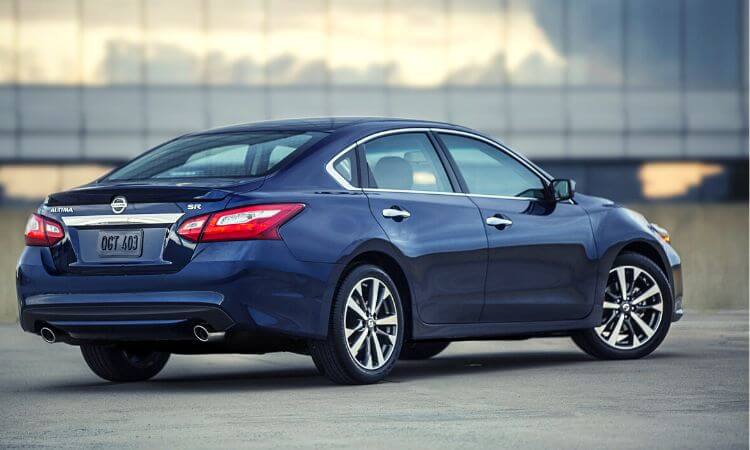 Uh! Do you have a Nissan Altima with a no key detected issue? There is no one exact solution because it occurs for many reasons. Here is the list of 5 top reported reasons you must check when facing this issue.
Weak or dead keyfob battery
Damaged key
Brake switch issues
Faulty Start button
Dead car battery
If you are experiencing a master warning light on your Nissan Altima, you must read this article for quick solutions: Nissan Altima warning light– A Easy Guide!.
Nissan Altima No Key Detected [2009-2022 Model Years] [Problems & Solutions]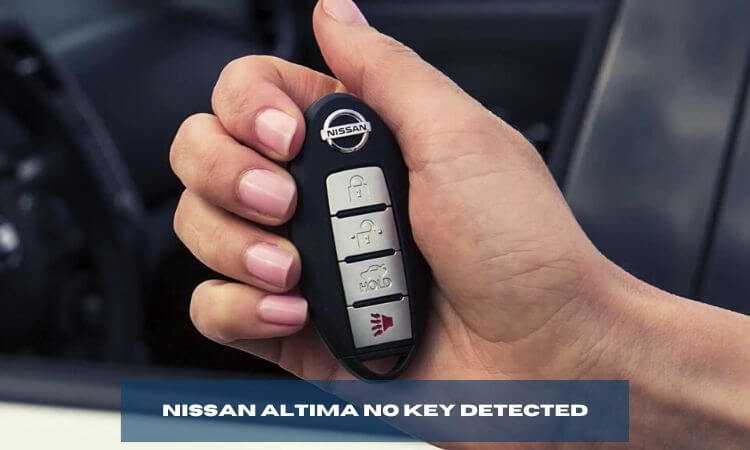 Problem 1: Weak or Dead Key Fob Battery
One of the most frequent causes of no key detected issues on Nissan Altimas is a weak or dead key fob battery. If you have a weak or dead battery, it will fail to send signals to the keyless system. 
Solution: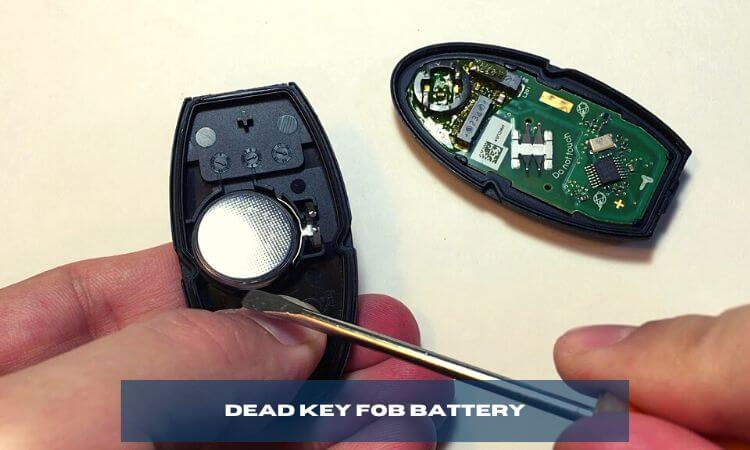 Open the key fob and remove its battery
Check the battery and ensure it is not faulty
Replace the battery with the correct battery type after consulting the user manual. However, for most models, you need CR2032 for the Nissan Altima. I recommend Energizer 2032 battery for your Nissan Altima keyfob.
Close the keyfob after replacing the battery to ensure it functions properly.
Problem 2: Broken or Damaged Key
A damaged key itself can be the culprit behind the issue. When a key drops or you wash it, it may start showing problems. You can easily identify the broken or damaged key and replace it with a new one.
Solution:
First, inspect the key fob battery and ensure it is fine
Next, check the key for physical damage, such as bent or cracked
If it is damaged, you will need a replacement
If you have one, check for the spare key and ensure it is working. If the spare key is okay, your original key needs a replacement.
However, if you do not have the spare key, contact the Nissan dealership or professional locksmith to get a perfect replacement key.
Problem 3: Brake Switch Problems
A faulty brake switch may prevent you from starting the vehicle. If the brake switch has issues, it will not transmit the signals to the system, and ultimately, you cannot start the vehicle. It needs repair or replacement to access its functions.
Solution:
First, ensure the brake switch has the issue; it is pretty easy
Press the brake pedal and notice how it is pressing. If it is not pressing or showing a problem when pressed, it may have an issue with its switch
You will need a replacement to start the vehicle
However, when replacing, consult the user manual and try to find the recommended switch for smooth performance.
It may help you save thousands of dollars if you buy a KIA car: KIA dealers not charging over MSRP.
Problem 4: Start Button Issues
The Start button sends signals to the system to ignite and start. If the start button is faulty, it may fail to make contact when you press it. You will need a replacement to execute the functions properly.
Solution:
Check for dirt or debris around your Nissan Altima start button, and ensure it is clean.
Now, check the button physically and ensure it is okay. However, if it is damaged, you will need a replacement.
Consult the user manual and purchase the recommended start button. If you cannot find it, contact the Nissan dealership.
Once you have the start button, remove the older one and mount it in its place.
Then, test the keyless functions and ensure the vehicle starts and locks smoothly.
If you have time, read this blog to solve a stuck glow relay problem: KIA p1326 relay stuck on– Solve Here!.
Problem 5: Dead Car Battery
You have checked for all the above problems but could not solve the issue; you may have a weaker car battery. A weaker car battery may restrict the starting of the vehicle due to low power. You will need to recharge or replace it with a powerful battery.
Solution:
Open your Nissan car hood and gain access to the car battery
Connect the battery with a digital multimeter and check the voltage. I recommend VEVOR Digital Multimeter for accurate readings
If the battery's voltage is low, you should plug it in, charge it for at least 30 minutes, and then check the voltage again. But if the voltage is still less than 12 volts, you have a dead battery that needs replacement
You can replace the dead battery with any of the high-quality 12V batteries. However, for best performance, I recommend XS Power Titan8 PWR-S5, 12 Volt Lithium battery for your Nissan Altima
After replacing the battery, test to ensure the problem has been resolved.
How To Start Nissan Altima Without Smart Key?
Follow these easy steps below to start your Nissan Altima car without a smart key.
Enter your car using the physical key.
Insert that key into the Ignition switch.
Then, depress the brake pedal and turn the ignition key to the " ON" position.
Hold the key in that position for a couple of moments until the dashboard lights turn on.
Release the key, and your Nissan Altima will start.
It can help you perfectly replace the Kia Forte alternator: 2010 KIA Forte alternator replacement.
Seeking Professional Assistance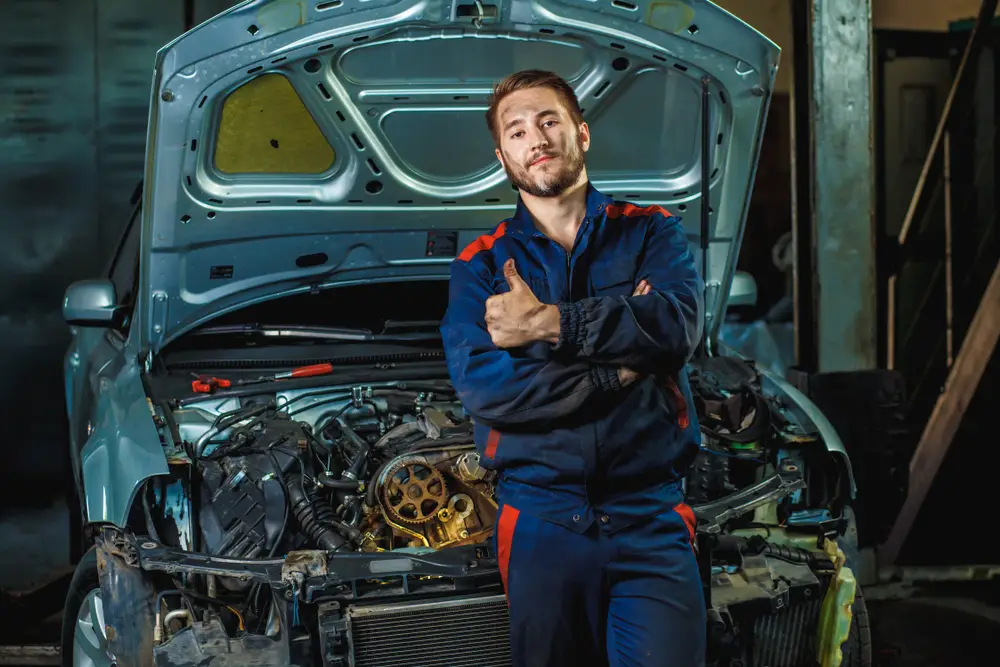 Professional technicians can provide us with quick and permanent solutions. However, for a no-key detected issue, you must seek professional assistance if you do not have a spare key and your original key is damaged. 
On the other hand, if you have tried all the above techniques but the issue still persists, call a professional for assistance.
Frequently Asked Questions (FAQs):
Why is my Nissan Altima key not working?
There are two possibilities when the Nissan Altima key is now working. The first one is that your key fob is faulty. The second possible cause could be an issue with your car's electrical system.
Can you start a Nissan Altima without the key fob?
Yes, you can start a Nissan Altima without the key fob. You can use the physical key to start the vehicle. However, if you need the physical key, contact a professional technician or locksmith service.
How to reset Nissan Altima Key?
Insert your key into the ignition switch, but do not start the Nissan Altima. After a couple of seconds, remove the key and reinsert it. Repeat this process multiple times. It may take ten to 12 minutes to reset the key. However, ensure the car doors are locked.
Is it safe to drive with no key detected?
You can drive without having your key detected. However, once you switch off the ignition, you cannot start the vehicle again until you use the physical key. 
Conclusion
No key detected issue on the Nissan Altima can worsen your driving experience. You need immediate action to solve the issues; otherwise, starting the vehicle will always be challenging. You should check for all possible causes and, once identified, fix the problem according to recommendations. 
Your journey starts here!