Hey there! This post contains affiliate links to products. We may receive a commission for purchases made through these links. But it never influences our product selection process.
Stability ensures a safe towing experience. The receiver hitch and step bumper are thought to be useful accessories for enhancing towing stability. But which of the two—the receiver hitch or the step bumper— wins?
The main difference lies in their purpose. The step bumper can be used for towing, but the receiver hitch is only for towing. Step bumpers are adaptable, attractive, and reasonably priced, but they are less reliable for towing. Receiver hitches are expensive but offer excellent performance for towing and are easy to install and remove. 
Let's join me to learn the best tool for your towing system. Choose the best one between the step bumper vs receiver hitch. Let's get started.
Comparison Table For Step Bumper and Receiver Hitch
| | | |
| --- | --- | --- |
| Highlighted Features | Step Bumper | Receiver Hitch |
| Purpose | Step and towing | towing |
| Design and Appearance | Sleek and stylish | standard |
| Weight Capacity | Low | Excellent |
| Towing compatibility | Low | Excellent |
| Installation and Removal | Tough | Easier |
| Versatility | Excellent | Low |
| Price and Value | Affordable | Expensive |
If you have time, also read this blog to choose between ladder bars and traction bars: ladder bars vs traction bars.
What is a Step Bumper?
A step bumper is a built-in step that lets users safely load and unload items. They are also used for towing purposes, like the receiver hitch. Step bumpers are widely used with SUVs or vehicles where roof racks are used. 
However, you should remember that step bumpers can be used for towing but are not explicitly developed for towing. You can use it for towing, but it may not perform well when used for heavy loads.
You may find multiple options on the market. However, I recommend the best-step bumper. My recommended step bumper is the Hooke Road Tundra Bumper Combo. It's exceptional, which makes it worth buying.
Step bumpers provide a robust barrier, and protect vehicles from damage during low-speed collisions
The elevated platform facilitates easy access to the truck bed
It makes loading and unloading easier and safe
Reduces the risk of slips and falls while accessing the rear of the vehicle
Allowing for towing capabilities, expanding the vehicle's functionality
Reduced ground clearance.
Limited protection in high-impact collisions
Customer Reviews & Feedback:
The customer was delighted with the step bumpers, describing them as easy to install. However, they faced a minor issue with the hole intended for the trailer plug on the rear bumper, as it wasn't large enough to accommodate it properly. 
To overcome this hurdle, they took matters into their own hands and filed the hole to make it fit perfectly. Ultimately, the step bumpers were successfully installed on their 2015 Toyota Tundra.
If you want to choose the best among Ford Star White and Oxford White, you must read this blog to make correct decision: Ford star white VS Oxford white.
What is Receiver Hitch?
A receiver hitch is attached to the rear underside of the trailer or truck to connect the hitch accessories. Hitches are used to tow campers, trailers, or other heavy loads safely and efficiently. 
The receiver hitch makes it easy to transport the accessories. They come in different capacities to support different towing loads. However, they are one of the top choices for drivers who deal with towing.
The market is full of many good and low-quality receiver hitches. Therefore, if you are looking, I would suggest CURT 45900 Adjustable Trailer Hitch. Its exceptional features make it versatile and helpful in different conditions.
Receiver hitches offer easy towing for various accessories such as cargo, bike racks, trailers, and much more
They let you attach heavier loads than average.
You can easily install them onto the vehicle's frame
They provide better clearance because they are attached to the vehicle
You can easily swap with the towing.
Reduces the vehicle's ground clearance
It may make the vehicle's rear look awkward
Customer Reviews & Feedback:
Customers love the traction bars because of their exceptional quality and performance. One of the customers claimed that they found the traction bars better than the ladder bars on vehicles to improve traction and stability. Another user reported that he successfully used them off-road to carry more than 1000 pounds. 
Step Bumper vs Receiver Hitch – A Detailed Comparison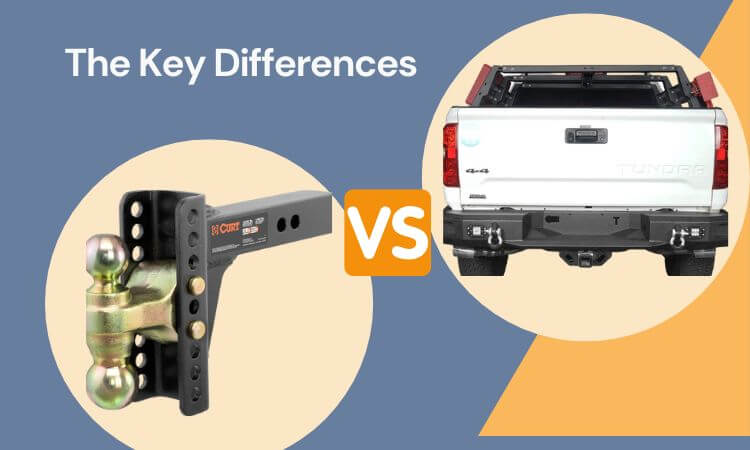 Purpose:
Both may be used for towing, but their basic purpose is different. The step bumper is designed to access the cargo area or truck bed easily. It is installed on the rear of the vehicle, which can serve as a bumper for towing and a step for safe entry and exit.
On the other hand, the receiver hitch is specifically designed for towing. It is attached under the rear of the vehicle. It can only be used to accommodate towing. It offers better strength for towing compared to a step bumper.
Design and Appearance:
The step bumpers are designed for step purposes and come in flat and wide surfaces. Its surface is non-slip for safe use. Because of their direct impact on vehicle looks, they come in sleek and classy designs.
While the receiver hitch is not as stylish as the step bumper. They are installed on the underside, which remains hidden. They often have a utilitarian appearance. 
Weight Capacity:
Weight capacity is very important for towing. When compared, we find receiver hitch is the winner. Step bumpers are developed for step purposes, so they are not very efficient at carrying heavy weight.
On the other hand, receiver hitches are specifically designed for towing, so they are compatible with heavy loads. They come in different load capacities to support heavy loads.
Towing Compatibility:
Both the step bumper and receiver hitch can be used for towing. However, receiver hitches are more compatible with towing than the step bumper. Their high quality, heavy load supporting material makes them more friendly to towing. 
Step bumpers can handle towing but may not work well when dealing with heavy loads such as trailers. Its lightweight and light material may make your towing worse.
Installation and Removal:
When it comes to installation and removal, receiver hitches are the winners. Step bumpers are pre-installed from the factory. So, they are tough to remove or replace until you modify them.
However, receiver hitches are more flexible. They are aftermarket accessories that can be easily installed and removed. You must also remove and install the receiver hitches when towing different loads.
Versatility:
Versatility is the main thing that makes the step bumper supreme over the receiver hitch. You can use them as steps or towing accessories when needed.
However, receiver hitches are only designed for towing. You cannot use them for any purpose other than towing.  
Price and Value:
Price and value are major factors that need to be discussed. Step bumpers are less expensive than receiver hitches. But what is the value of your price? It depends on your purpose of use. 
A step bumper is a good choice if you need towing for DIY purposes. You can use them for towing and steps. But expensive receiver hitches are the only solution when you deal with heavy loads towing.
Are you looking for help to decide between a ford f150 crew cab and extended cab? Visit this link to make informed decision: Ford f150 crew cab vs extended cab.
Maintenance of Step Bumpers and Receiver Hitches
Clean and inspect them on regular bases to protect them from rust or wear
Lubricate properly; it will ensure the prevention of corrosion and high performance
Keep all the bolts secure to maintain safety and stability
Never tow with heavy loads other than those recommended.
Which One is Better: Step Bumpers and Receiver Hitches?
Both tools have excellent features that make them perfect for different conditions.
A step bumper is a better choice for DIY users. They can use them for towing and stepping. They are also affordable.
In contrast, receiver hitches are good for professional towing applications where you need durable materials to handle towing of heavy loads. 
However, receiver hitches are a better and more trusted choice for towing purposes than the step bumper. They ensure better performance than step bumpers for towing.
Frequently Asked Questions (FAQs):
How to install a step bumper hitch receiver?
01. Start by positioning the hitch receiver under the vehicle's step bumper.
02. Mark the holes on the bumper for mounting the hitch receiver with marker
03. Now drill the holes 
04. Install the bolts to secure the hitch receiver
05. Once done, ensure the hitch receiver is secure
Can I use a step bumper for towing bike racks or cargo carriers?
No, it is not recommended. However, if the load is low, then you can tow. But you can never tow heavy loads; otherwise, you may get your step bumper broken.
Can I install a receiver hitch and a step bumper on the same vehicle?
Yes, you can install them on the same vehicle. Most of the vehicles come with pre-installed step bumpers. You can install the receiver hitches for heavy load towing.
Can a step bumper support the weight of a trailer tongue?
No, step bumpers are not good enough to support a trailer tongue's weight. It may be risky, and you will be at risk of accidents. So, always use a receiver hitch when towing the trailer.
Conclusion
We often need towing for various purposes. It helps us carry and transport heavy loads. However, you need to make a careful selection because it can be risky. Check your towing capacity requirements when choosing between the step bumper and receiver hitch. 
You should choose the best one based on your requirements. Receiver hitches are reliable tools for towing. However, you can also tow with step bumpers for low-load towing.