Hey there! This post contains affiliate links to products. We may receive a commission for purchases made through these links. But it never influences our product selection process.
The color of your vehicle can say much more about your personality and style. For Ford lovers, two stunning options are Ford star white and Oxford White. But a question arises when choosing between these two. Which white shade reigns supreme?
Ford Star White has a more clean and classic appearance than Oxford White. It has a unique color code, excellent reflectivity, blending, and heat absorption properties. While the Oxford White needs low maintenance, better compatibility with every climate, and high resale value. However, Ford Star White is expensive.
I will walk you through a detailed comparison of Ford Star White vs Oxford White to help you choose which one to choose. Let's start the discussion.
Quick Overview
| | | |
| --- | --- | --- |
| Highlighted Features | Ford Star White | Oxford White |
| Paint Code | Unique | Standard |
| Exterior Look | Clean and Classic | Standard |
| Reflectivity | Higher | Lower |
| Heat Absorption | Excellent | Good |
| Blending Ability | Excellent | Good |
| Maintenance | More | Less |
| Weather Compatibility | Hot and Sunny Climates | Both Hot and cold climates |
| Resale Value | Low | High |
| Price & Value | Expensive | Less Expensive |
Ford Star White Overview:
The Ford Star White is a luxurious and highly demanding shade that returned in 2021. Its unique texture and stunning appeal make it the top choice of every Ford enthusiast.
What sets it apart from other white color shades is its warm undertone. It gives it a creamy and ivory-like appearance. But this shade is available on select high-end trims of Ford 150 with an up-charge of $595.
Striking beauty and unique style
Glittering metallic shade
Long-lasting color that doesn't fade easily
Durability without hassle
Retains glossy feel longer than Oxford White.
Need more cleaning and maintenance.
Low resale value
Expensive
Customer Reviews and Feedback:
Mixed reviews were received for Ford Star White. Some praised its fast and accurate paint matching, particularly for stone pecks. 
However, others found that the blending solution did not work as advertised, causing the paint to be removed instead of blended. 
The included wax was deemed cheap and unremarkable. Some recommended purchasing original touchup pens directly from the manufacturer instead.
Are you looking for a floor liner for your vehicle? Here is the best liner for you: Weathertech floor liner vs hp.
Oxford White Overview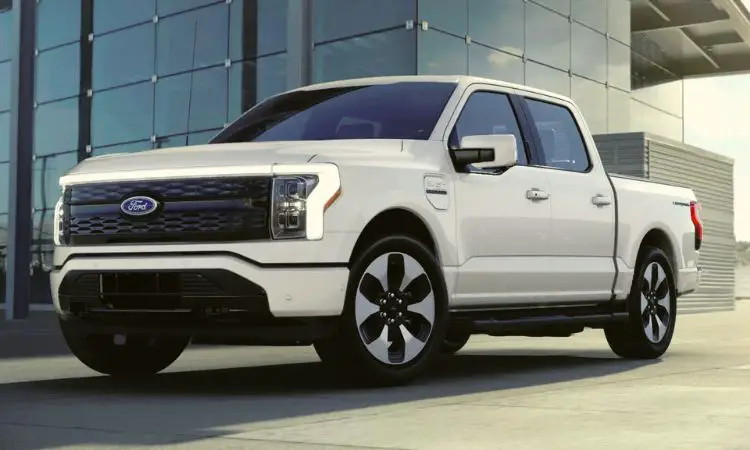 Oxford White is a modern, yes, classic white shade that looks fresh. It maintains a balance between warm and cool tones. Its clean and bright appearance makes it a perfect choice for Ford lovers. 
Oxford White adds a touch of modernity and sophistication to the vehicle's look, making it ideal for pick-up trucks. Its versatility and appealing aesthetics attract those seeking a fresh and timeless look.
Formal and traditional appearance
Compatible in all climates and conditions
No additional cost
Long-lasting without issues
Good Resale value
Poor reflectivity may make it hot in warm weather
Low blending ability
Customer Reviews and Feedback:
Oxford White received positive customer reviews for its touch-up paint. The paint matched perfectly with a 2017 Ford F150 tailgate, exceeding expectations. Instructions were easy to follow, resulting in satisfactory outcomes. 
However, one customer mentioned poor blending features. Overall, it is recommended for its effectiveness and color accuracy.
Is your Ford touchscreen not working? Don't worry; find a solution from here: Ford touch screen not responding to touch.
Ford Star White vs Oxford White 
Paint Code:
Ford Star has a unique code [AZ/M7446A/PN4HR/LVLGWHA] that Ford assigns. It helps to identify the exact color. While the Oxford white color code [Y1/Z1/M6887] is a standard code for white color. Many other automakers on the market also use that code. 
Exterior Look:
When it comes to appearance, both of the vehicles are very charming. They have a clean and classic appearance. But the Star White has a slightly brighter and more vibrant tone. While the Oxford White has a traditional look that may not outclass its counterpart, its counterpart looks good for many auto enthusiasts.
Reflectivity:
Color reflectivity is also an essential characteristic that contributes to the brightness of the color. When compared, Ford Star White has higher reflectivity than Oxford White. So, Star White may appear brighter than Oxford White. However, Oxford White also has good reflectivity, but less than Ford Star White.
Heat Absorption:
As discussed, Ford Star white is more reflective, so it reflects the sunlight and absorbs less heat than Oxford white. So, Ford Star White may remain cooler than Oxford White in hot environments. 
Blending Ability:
Compared to blending features, Ford Star White is also the winner here. It comes with excellent blending ability and easily matches touch-up repairs. Oxford White also has good ability, but slightly less than Ford Star White. 
Maintenance:
Both of the vehicles are simple to clean and maintain. However, Ford Star White is brighter, so it may show more stains or dirt than Oxford White. It may need more deep cleaning and maintenance than Oxford White.
Weather Compatibility:
When comparing both vehicles' compatibility with the environment, both are found to be good. But the Ford Star is white, and due to its brighter color and heat absorption, its properties may suit hot climates. At the same time, Oxford White is a standard color that may suit both hot and cold climates.
Resale Value:
Resale value depends on many factors, such as the color and condition of the vehicle. However, Oxford White, which comes in standard color, may have a higher resale value. 
Price & Value:
Price is a significant consideration; both cars are expensive and have high-quality features relative to their costs. But Ford Star White is more costly due to its unique and vibrant shade. People who are color conscious may quickly agree to pay more for its unique shade and properties. 
Ford f150 won't start no clicking noise? Troubleshoot potential issues like a dead battery, faulty starter, or ignition problems with our expert guide for a reliable solution.
Which One is Better: Ford Star White or Oxford White?
Both of the vehicles are excellent performers. They have benefits and drawbacks that may influence your decision. 
Ford Star White is better than Oxford White for those who love sleek and modern shades. However, its unique shade, excellent heat absorption, and blending ability make it worth buying. 
On the other hand, Oxford White can also be a good choice. It offers better compatibility with various weather conditions, a higher resale value, and affordability. You need less cleaning and maintenance.
You may also like: Ford Sync Master reset not working.
Frequently Asked Questions (FAQs):
Is there any difference: Ford Star white vs white platinum?
Yes, there is a difference between Ford Star White and White Platinum. Ford Star White is a solid white color, while White Platinum is a metallic white with a subtle pearlescent finish. It offers a more luxurious appearance.
Is Ford Star White metallic?
Yes, Ford Star is a white metallic color. It has an appealing metallic shine under sunlight, creating a pleasing contrast with black. It improves your vehicle's look when used in combination with other shades.
How much is it to repair stains on Ford Star White?
The cost to repair stains on a Ford Star White vehicle is approximately US$36.90 for the materials needed. Additionally, professional labor costs may vary depending on the service provider and the extent of the stains.
Does Oxford White go with Edgecomb Gray?
Yes, Oxford White goes well with Edgecomb Gray. The combination of a bright white like Oxford White and the warm neutral tone of Edgecomb Gray creates a pleasing contrast. It can result in an elegant and balanced color scheme.
Conclusion
You have gone through the comparison between Ford Star White vs Oxford White. The choice between the two depends on your preferences. Both shades have their own unique qualities. 
However, enthusiast Ford Star White is a better option for a modern and sleek look. While the Oxford White comes in a standard appearance. Whatever shade you choose needs proper care and maintenance to sustain itself.