Hey there! This post contains affiliate links to products. We may receive a commission for purchases made through these links. But it never influences our product selection process.
No one wants to compromise on driving safety. When it comes to driving safety, plug & play throttle response control systems can enhance your driving safety. Pedal Commander and Pedal Monster are the two most recommended systems on the market. But which one is the winner of these two?
Pedal Commander is easy to install, compatible with many vehicles, and offers advanced and easy features to improve performance. But it is a little expensive and requires trained skills to make adjustments. Pedal Monster is an affordable option with good features. But it has limited compatibility and no display, which may make it tough to monitor.
Here I will explore Pedal Commander vs Pedal Monster, which may help you make the right decision for your throttle response control system. Let's start the discussion.
Quick Overview
| | | |
| --- | --- | --- |
| Highlighted Features | Pedal Commander  | Pedal Monster |
| Design and Installation | Simple and easy to install | Little complex |
| Compatibility | Excellent | Limited |
| Adjustability | Excellent | Limited |
| Performance Modes | 4 modes | Limited modes |
| Display and Controls | Available | Not Available |
| Price and Value | Expensive | Affordable |
What Is A Pedal Commander?
A Pedal Commander is a useful tool that helps you control how quickly your car accelerates. It is easy to install and works well with vehicles with electronic gas pedals. It does not harm your engine because it stays within safe limits. It only changes the signal sent from the gas pedal to the car's computer. 
The Pedal Commander does not give your car more horsepower, but it reduces the time it takes to respond when you press the gas pedal. So, reducing time enhances speed to some extent. 
Brake Controller Not Working with Pedal? Troubleshoot and resolve the issue with our expert guide, ensuring safe and efficient braking for your journeys on the road.
Pedal Commander eliminates the delay in the electronic gas pedal to improve response time
With its 4 modes (Eco, City, Sport, Sport+), and 36 adjustable settings, it allows you to fine-tune the throttle response to your preference
It slows down the throttle response and enhances efficiency, and helps you save fuel
It is Bluetooth compatible, allowing you to control the unit conveniently using the free Pedal Commander app
Pedal Commander takes only about 5 minutes to install
Limited compatibility with specific vehicle models and electronic throttle systems
Adjusting to the Pedal Commander's various settings need advanced skills
Customer Reviews and Feedback:
Customers love using a pedal commander throttle control system. About 78% of users give it a perfect 5-star rating for its outstanding performance. It provides a quick response when the pedal is pressed. 
However, some feel it is expensive for what it offers. One Ram truck owner even mentioned that it transformed the way their Hemi engine responded. However, one user experienced an issue with their cruise control after a few months of use.
If your Cummins exhaust brake is faulty, get a solution here: 6-7 Cummins exhaust brake not working.
A unique device called Pedal Monster enhances how your car's accelerator pedal reacts when you press it. It differs from competitors because it connects to your vehicle's OBD-II port using a reliable power connection. 
It allows it to read important information about your vehicle. Using this information, Pedal Monster makes your pedal feel smoother and more responsive. It comes with advanced safety features to keep you protected. Although it does not change the engine's performance, it makes your truck feel more lively and energetic.
Pedal Monster requires minimal maintenance compared to traditional vehicles
It can be used for commuting, recreational activities, and running errands
It improves the sensitivity of the throttle. Resulting in quicker and more immediate acceleration
Pedal Monster optimizes the power delivery of the engine. You will see a noticeable boost in your vehicle's performance
It is easy to install and is compatible with many vehicles
It is compatible with many of the famous vehicle makes and models
Its performance is affected if the vehicle's electrical system has a problem
Customer Reviews and Feedback:
Customers love Pedal Commander, with a 76% 5-star rating; it performs exceptionally well. Installing it on your vehicle is a breeze. It delivers on its promises. One user experienced a remarkable transformation in their Duramax, turning it from a sluggish diesel into a powerful truck comparable to a Hemi Charger. 
It enhances the driving experience and feels like a brand-new engine and transmission. Users also found it compatible with the 2018 Chevrolet Silverado 1500 5.3L Gas model.
Brake controller problems can frustrate your driving, so if you have the issue, please read this article to solve it: Ford integrated trailer brake controller problems
Differences Between Pedal Commander vs Pedal Monster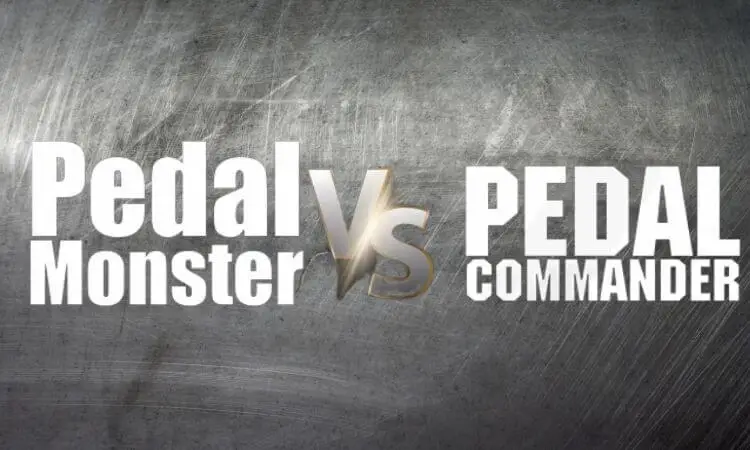 Pedal Commander and Pedal Monster are no doubt used for similar purposes but have different features that make a performance difference. Here I have listed a few of the major differences that make one better than the other.
Design and Installation:
Both tools are designed to improve throttle response for quick acceleration. However, they are different in design and methods of installation.
Pedal Commander is a compact tool that can be plugged into the vehicle's accelerator pedal. It may take a couple of minutes to install. On the other hand, a pedal monster needs to connect to the vehicle's electronic control unit, which may require skills and more time. 
Compatibility:
When comparing their compatibility, the pedal commander is a better option. Pedal Commander is compatible with many vehicles, such as SUVs, cars, and trucks, regardless of their brand and model.
On the other hand, the Pedal Monster is designed only for specific vehicles such as Dodge Ram, GM, and Ford. So, its use is limited.
Adjustability:
The ability to be adjusted is a crucial feature that increases the utility of a throttle controller. The pedal commander wins the battle here. It has multiple sensitivity modes and customized setting options to fine-tune the throttle response. You can set it to any of your desired modes.
Pedal Monster, on the other hand, has some limited adjustability features. It offers only specific adjustability options depending on the specific models for which it is made.
Performance Modes:
Pedal Commander provides various performance modes, including Eco, City, Sport, and Sport+, which offer different levels of responsiveness. 
Pedal Monster also offers multiple modes, such as Economy, Street, Sport, and Track, but the available modes can vary depending on the vehicle.
Display and Controls:
The display feature makes it easy to control the functions. Pedal Commander has an LED display and buttons to navigate and control it easily. 
On the other hand, Pedal Monster lacks this feature. It depends on the vehicle's control system for mode selection.
Price and Value:
As opposed to the pedal Monster, the pedal Commander is more expensive. However, the price difference may vary depending on the specific brand and vehicle model. Pedal Commander also offers extended features in exchange for higher prices. So, buying it at higher prices is worth it.
Fix your dodge ram trailer brake controller issues here: 2012 dodge ram trailer brake controller problems and solutions.
Which One is Better: Pedal Commander or Pedal Monster?
The Pedal Commander is better for Ford Trucks (F-250, F-350, F-450, F-550, and many other fast-speed vehicles). It provides faster acceleration with no delay from the gas pedal. It has advanced adjustable features to customize performance. Installation is quick and easy, taking only 5 minutes. Pedal Commander is Bluetooth-compatible with a free app for control. 
The Pedal Monster, on the other hand, is an OBD-II-connected throttle sensitivity controller. It supports both gas and diesel vehicles. It has modern safety features such as ActiveSafety, Reverse Safety, and Adjustable Low-Speed Trim. 
Both devices are good for improving throttle response. They offer adjustability and performance control features. But the Pedal Commander is better because of compatibility and more modes of setting for customization.
Does your vehicle fail to build pressure when bleeding the brakes? Here is the solution: Can't build pressure when bleeding brakes.
Frequently Asked Questions (FAQs):
Is pedal commander good for towing?
Yes, Pedal Commander is good for towing. It helps you control how sensitive your gas pedal is. You do not need to upgrade like others. It has different modes, such as the ECO mode, which is helpful for towing. ECO mode gives you slow and smooth acceleration, making towing safer. It is like going slow and steady to win the race while towing.
Is a pedal commander worth the money?
Yes, the Pedal Commander is worth the money. It is a helpful device that makes your car perform better. It improves your vehicle's response to the pedal to give you more control. It ensures you can enjoy a smoother and more responsive driving experience.
Is the Banks Pedal Monster worth it?
Yes, the Banks Pedal Monster is worth it. It is a fantastic device. I tried it on a Duramax truck, and it transformed the slow diesel into a powerful vehicle. It adds excitement to driving the Duramax, making the acceleration incredibly smooth. 
Is the Banks pedal monster traceable?
No, the Banks pedal monster cannot be traced because it does not leave any evidence or connection behind that can be followed. You can use it worry-free; it never leaves impressions where it is installed.
Conclusion
The throttle control system helps to ensure a smooth ride. However, the quality and performance of your chosen system can impact its performance. Pedal Commander and Pedal Monster are two excellent options. The Pedal Monster is an affordable device with limited but unique features for specific vehicles. On the other hand, Pedal Commander is an expensive option but offers a wide variety of advanced features.