Hey there! This post contains affiliate links to products. We may receive a commission for purchases made through these links. But it never influences our product selection process.
RAM 1500 is one of the most reliable off-road vehicles. If you install a quality shock absorber, it will take your off-road driving to the next level. For RAM 1500, one of the most recommended shock absorbers is Bilstein 5100. 
On the Ram 1500, Bilstein improves driving control, ensures a smooth ride, and enhances handling. It is easy to mount and adjust with little mechanical skill. However, it is a little more expensive than other shock absorbers. But its extra cost adds value to its performance.
If you are still confused about deciding, stay with me and learn more about Bilstein 5100 on RAM 1500. I will explore detailed RAM 1500 Bilstein 5100 before and after comparison. Let's explore and make an informed decision.
Ram 1500 Bilstein 5100 Before and After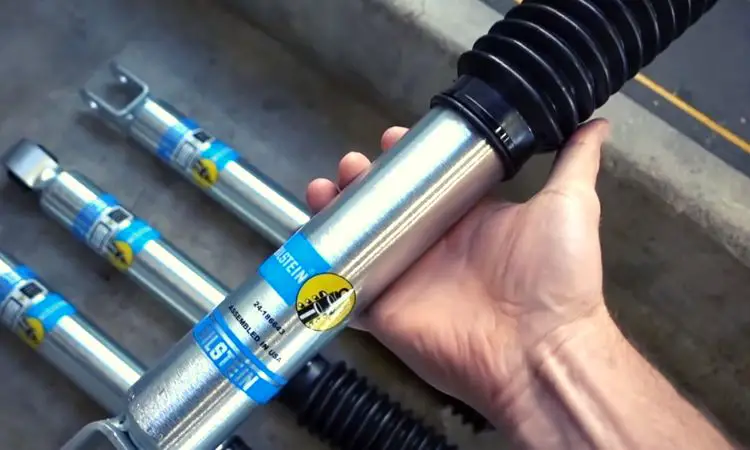 Bilstein 5100 shock absorbers have exceptional qualities that make them the best for delivering performance. The manufacturer claims they ensure comfortable rides, enhanced handling, and better off-road capabilities. The manufacturer also claims the Bilstein 5100 is perfect and designed explicitly for RAM 1500. They are easy to mount without professional skills.
After using them, customers have differing opinions about installing them to the RAM 1500. Most of the customers offer positive reviews. They notice an improvement in overall performance, such as easy handling on rough roads and smooth driving in a controlled manner.
However, a few also claimed that they had trouble installing them. They claimed that mounting the Bilstein 5100 requires professional assistance. Anyhow, there is no other complaint except the tough mounting process. Customers find them reliable and most trusted shock absorbers on the market that are worth buying.
The Bilstein 5100 shock absorbers are one of the best options on the market and offer a blend of off-road reliability and smooth driving. Their extra zinc coating makes them an ideal choice for off-road vehicles. They protect the tube from dust or debris. 
You may find them a little bit costly compared to others, but they offer excellent towing and hauling services. They are designed explicitly for RAM 1500. For optimal performance, shocks are installed with the front lifted 0–2.5 inches and the rear lifted 0–1 inch. After installing Bilstein 5100 shock absorbers, you will feel the difference in your driving experience.
Features and Benefits of Bilstein 5100:
Its 46mm monotube design aids in providing fade-free performance under various circumstances.
The shock absorber has patented digressive valving that quickly adapts to different conditions to keep your driving comfortable and under control. 
Bilstein 5100 shocks offer OEM-certified hardware to mount the shock absorber to ensure a hassle-free installation
Zinc plated feature keeps it protected from corrosion and ensures a long-lasting choice
Its vulcanized neoprene rubber bushings ensure durability and improved shock absorption
You have complete control to change its lift heights to suit various circumstances and applications.
Premium quality USA-made material used in its manufacturing
If you have time, you must read this comparison: Bilstein 5100 vs fox 2.0. It will help you choose the best shock absorber for your vehicle.
Why Choose Bilstein 5100 for Ram 1500?
You must make the correct decision when choosing the best shock absorber for an off-road vehicle. Bilstein 5100 provides many reasons to choose it for your off-road vehicles.
The Bilstein 5100 shocks give you multiple snap-ring grooves and 0-2.5 inches of front lift with OE springs. It assists you in leveling your RAM 1500 easily.
It has a 46mm digressive piston and a self-adjusting deflective disc valve that improves handling and smoothness while driving.
After installing the Bilstein 5100 shocks, you notice a noticeable improvement in performance because they were specifically created for the RAM 1500.
Its patented digressive valving system makes it suitable for larger and taller tires. So, mounting them on your RAM will improve suspension performance.
Corrosion is a major risk for off-road vehicles. However, there are no worries when mounting the Bilstein 5100 because it is zinc plated, which guarantees excellent corrosion protection.
You will also get a limited lifetime warranty that helps you get them repaired for free.
If you are an off-road driver, it is good to install the bars to improve traction. Choose your bars from here: Ladder bars vs traction bars
How Long Do Bilstein 5100 Shocks Last?
There is no specific answer to that question because it depends on your driving habits and road conditions. Your driving frequency and load can also affect the Bilstein 5100 life. 
However, with good care and maintenance, Bilstein 5100 can last around 4 to 5 years or over 100,000 miles.
How to Install Bilstein 5100 Shocks on Ram 1500?
Installing Bilstein 5100 shocks on Ram 1500 is easy because Bilstein 5100 is designed for RAM 1500. So, everything is almost ready to mount. Follow the steps below to install Bilstein perfectly on your RAM 1500.
Things You Need:
You will need essential tools to install the shocks, such as a lug wrench, socket set, torque wrench, and jack stand. You will need a quality jack stand to carry heavy RAM 1500. I recommend the Pro-Lift Heavy Duty 6-Ton Jack Stand if you do not have it already. It is affordable and can firmly handle large vehicles.
Once you have gathered all the essential tools, park your RAM 1500 on a level surface for safe operations. Lift its front end on the jack stand.
Remove the front wheels and then the old shock absorbers. Use a lug wrench and torque wrench to loosen nuts and bolts.
After that, mount the Bilstein 5100 and set its orientation
Insert them into the mounting brackets and secure them
Lower your RAM 1500 and install the rear shocks
Once installed, ensure all nuts and bolts are properly secured. It is better to take a test drive before hitting the road.
Choose your best towing accessory here for a safe towing experience: Step bumper vs receiver hitch
Quick Comparison Chart With Other Shocks
Here is a quick comparison chart between Bilstein and two best performing shock absorbers on the market.
| | | | |
| --- | --- | --- | --- |
| Highlighted Features | Bilstein 5100 | KYB 349203 | Monroe 58653 |
| Type | Gas-charged | Gas-charged | Hydraulic |
| Construction  | Mono tube | Twin tube | Twin tube |
| Off-road Performance | Excellent | Good | Moderate |
| Adjustability | Excellent | Poor | Poor |
| Installation | Bolt-on | Bolt-on | Bolt-on |
| Price | Expensive | Affordable | Affordable |
Maintenance Tips
Make it your habit to check the Shocks for leakage or damage
Ensure proper cleanliness of the shock absorbers to remove dirt or debris
Off-road riding can cause the loosening of nuts or bolts of bushing or other hardware. Regularly check them to ensure all nuts and bolts are correctly secure
Always follow the manufacturer's instructions to get the most from your shock absorber
Never load excessive weight than the recommended one
Frequently Asked Questions (FAQs):
How much lift can I get from my Bilstein 5100 shocks on RAM 1500?
The Bilstein 5100 shock absorber offers you different lift adjustment options. You can lift it from 0-2.75 inches. Its alternative hardware to coil spring ensures a better option for leveling RAM 1500 front.
Are Bilstein 5100 shocks better than stock for my RAM 1500?
Yes, they usually prove better than stock for lifting the RAM 1500. Its modified setup helps to lift heavy vehicles properly during tough conditions. The Bilstein 5100 offers a firm ride when compared to stock shocks. So, installing them on RAM 1500 will improve your driving experience.
Are Bilstein 5100 shocks worth the money?
Yes, they are worth the money. They offer excellent features that make them best for large or heavy vehicles. The Bilstein shocks can help lift, haul, tow, and off-road driving. They offer excellent protection against corrosion. So, they can be long-lasting with little care and maintenance.
Do I need modification in Bilstein 5100 before installing it on RAM 1500? 
No, usually, there is no need to make any modifications because they are designed for RAM 1500 and other heavy-duty trucks. However, checking your RAM 1500 model and year for better compatibility is better.
Will my RAM 1500 Warranty cover void when I install the Bilstein 5100?
No, it does not affect your RAM 1500 warranty cover. It will remain in existence until Bilstein 5100 directly causes a problem with your RAM 1500. Many RAM 1500 owners have claimed warranty cover even after installing the aftermarket shock absorbers.
Conclusion
A best-quality shock absorber on RAM 1500 can be a game changer. It improves your control and makes your ride smooth off-road. The Bilstein shock absorber performs well on RAM 1500 and meets all the claims. But you must ensure regular cleaning and maintenance to enjoy its benefits. Otherwise, you may experience the worst.