Hey there! This post contains affiliate links to products. We may receive a commission for purchases made through these links. But it never influences our product selection process.
Floor liners are essential for keeping your car's interior clean and protected. When it comes to the best options, Weathertech floor liners and HP floor liners stand out. Both are highly regarded, but which one is the right choice for you?
Weathertech floor liner has excellent durability, coverage, traction, and easier cleaning features. But it is a costly floor mat. On the other hand, Floor liner hp offers good durability, coverage, traction, and affordability. But it comes with a modern, sleek design. 
In this article, I'll conduct an in-depth analysis of Weathertech Floor Liner vs HP, exploring their unique features, materials, and performance. Let's start the discussion.
Quick Overview
| | | |
| --- | --- | --- |
| Highlighted Features | Weathertech Floor Liner | Floor Liner HP |
| Material and Design | Durable and Normal design | Durable and sleek design |
| Coverage | Excellent | Good |
| Traction and Grip | Excellent | Good |
| Ease of Cleaning | Easier | Easy but little tough |
| Price and Value | Expensive | Affordable |
What Are Weathertech Floor Liners?
WeatherTech Floor Liners are specially designed floor liners that provide complete coverage for your vehicle's interior. Unlike stock mats, these liners are built to be more rigid and durable, outperforming many aftermarket options. The precise craftsmanship of WeatherTech ensures a superior fit and functionality. 
Advanced materials such as rubber-like Thermoplastic elastomers (TPE) are used in manufacturing. Such materials make them eco-friendly and non-toxic. They are excellent performers and ensure 100 % recycling after use. You will not feel a foul smell when using it, and with some maintenance, you can enjoy a long-lasting and fresh environment inside your vehicle.
You have many choices on the market. But I recommend one of the best products, WeatherTech Custom Fit FloorLiner which is best for Chevrolet Silverado/GMC Sierra, and many others.
Fits Select 2014-2018 Silverado/Sierra 1500 and 2015-2019 Silverado/Sierra 2500/3500 and many more
The rear Liner extends under the rear seat for full floor coverage and fits both with or without an under-seat storage box.
Proudly made in the USA
Features a high lip to hold liquids.
Laser measured for a precise fit.
Compatible with specific vehicles
They are too hard, that may make you uncomfortable.
Customer Reviews & Feedback:
The WeatherTech floor liners are just as easy and flexible as advertised. One satisfied customer recommends them to all auto owners. They arrived quickly and fit perfectly. They look great and work well. 
Another user says they were a great buy because they fit perfectly, were well-made, and looked good. The process of installation is simple; nails may even be used. Most users claimed that these mats were expected to increase the value of their trucks.
Are you confused when deciding between Wool Wax vs Fluid Film? In this comprehensive comparison helping you make an informed choice for optimal rust protection.
What Are Floor Liners HP?
FloorLiner HP is the next generation of high-performance floor liners designed to protect your vehicle's footwell. These flexible rubber-type mats are digitally laser measured to make them a perfect fit for your vehicle. 
The FloorLiner HP features standing walls covering the floor's front, back, and sides. They provide excellent protection against spills and dirt. 
Made from a softer and more flexible material, it feels smooth and looks sleek while still being heavy-duty and durable. With a specially designed retention system and non-slip nibs, the FloorLiner HP stays securely in place. 
Even in extreme temperatures, it is resistant to cracking, curling, and breaking. Additionally, it is 100% recyclable, latex-free, and PVC-free.
Try FloorLiner HP for GMC Sierra / Sierra Denali 1500 (446071IM). They are excellent performers in the market.
Laser measured for a precise fit on select Cadillac Escalade, Chevrolet Silverado, Chevrolet Suburban, GMC Sierra, and GMC Yukon models with carpet flooring
High lip design effectively holds liquids and prevents spills from reaching the vehicle's carpet
Made with high-quality, durable materials to ensure long-lasting performance
Provide reliable floor protection for your vehicle
Easy to install
Limited compatibility with specific models
Need often cleanliness otherwise, it may create a foul smell
Customer Reviews & Feedback:
Customers are delighted with the floor liners hp. One customer mentioned that the liners fit perfectly in their 2019 Silverado 1500LD, eliminating a crevice between a footrest and the left kick panel. 
They consider these liners to be the best mats they have ever purchased. They even find it surpassing the performance of Husky liners in their old Escalade. 
Another customer expressed love for these mats and said she found them even better than anticipated. 
If you want to enjoy a smooth driving experience on rough roads, you must try one of these shocks: Bilstein 5100 VS Fox 2.0.
Difference Between Weathertech Floor Liner vs HP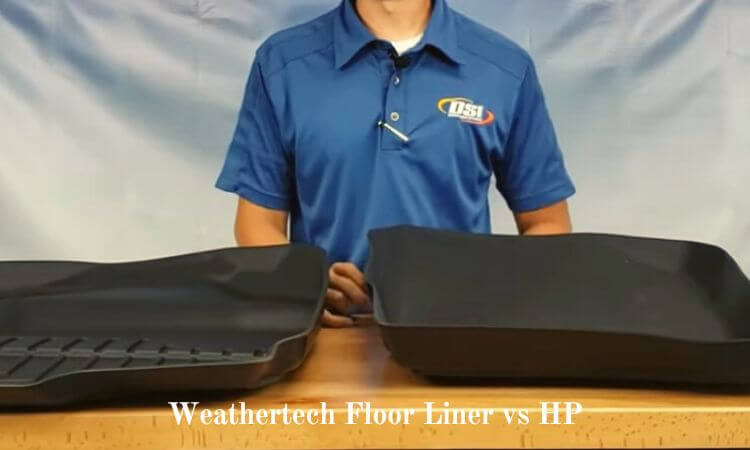 Material and Design:
Both floor liners have excellent material. The thermoplastic material used to create Weathertech floor liners is strong and adaptable. On the other hand, FloorLiner hp is constructed with a lightweight but rigid material.
Weathertech floor liners feature better coverage and precise fit. While the floor liner hp offers a sleek and modern appearance.
Weather tech floor lining is preferred by those who value durability. But go with the floor liner hp if you prefer a more contemporary aesthetic.
Coverage:
Area coverage is an essential factor in floor liners. The floor liner made by Weather Tech triumphs in this comparison. It covers the footwell area and extends up the side to prevent spills, wear, and debris.
On the other hand, the FloorLiner HP offers a more minimalist design. It covers the floor without the raised edges of the standard FloorLiner.
Traction and Grip:
Both of the mats offer better traction and gripping features. However, the Weathertech floor liner has surface channels and raised edges that help to control the liquids. It prevents the liquids from spilling onto the carpet.
On the other hand, the floor Liner hp lacks raised edges, but it still offers anti-skid ridges. So it also ensures a secure footing and prevents items from shifting around. But could not protect as much as Weathertech floor liner controls.
Ease of Cleaning:
Cleaning is crucial because you frequently need it to keep the interior of your car fresh and clean. Both mats come with advanced features that make them easy to clean. 
However, the Weathertech floor liner that has been raised may be easier to clean than the HP floor liner. You can easily remove stains, dust, and debris from Weathertech floor liners.
Price and Value:
The Weathertech floor liner is more expensive than the modern-styled floor liner hp. The more expensive Weathertech floor liner, however, increases its durability, makes it simpler to clean, and covers a larger area than the HP floor liner. 
A floor liner HP with similar features and a slightly lower price than Weather Tech floor liners. However, with a stunning design and appearance, your throttle control system will be more consistent. Try the best throttle system controller from here: Pedal commander vs pedal monster.
Which One is Better: Weathertech Floor Liner or HP?
The choice between the Weathertech floor liner and floor liner hp depends on many factors. Overall, both are good floor liners. 
Weathertech Floor liner is an excellent mat. It has high-quality material that ensures durability, flexibility, and more coverage, making it long-lasting. But its best features make it somehow costly.
On the other hand, Floor liner hp is an affordable option that ensures good traction, grip, and coverage but has softer material. It comes with a minimalist approach and improves your vehicle's look. If you love the sleek design, then Floor liner can be your mat.
Enjoy better protection in extreme weather conditions Choose the best windshield tint for your vehicle here: 50 vs 70 windshield tint
Frequently Asked Questions (FAQs):
Are WeatherTech HP floor liners worth it?
Yes, they are worth buying. They offer excellent protection for your vehicle's floors, and are durable and easy to clean. They provide a precise fit and could assist you in keeping your car clean and valuable.
Are weather tech floor liners better than Husky?
Yes, many customers consider WeatherTech floor liners better than Husky liners. They prefer WeatherTech for its precise fit and high-quality materials. They are also more durable and long-lasting and come in sleeker designs than husky liners.
Do WeatherTech Floor Liners have a warranty?
Yes, WeatherTech Floor Liners come with a limited lifetime warranty. It means only the original purchaser can call for warranty cover until the liners remain with the original purchaser.
Are WeatherTech Floor Liners odorless?
Yes, WeatherTech Floor Liners are odorless. However, do not worry if you do not clean them frequently or if they get dirty from frequent use. Simply remove them and properly clean them, and the offensive odor will disappear.
Conclusion
Floor liners prove better than floor mats. Placing a quality floor liner inside your truck or car can help you maintain your vehicle's cleanliness and value. The two best products for your cars are Weathertech floor liners and HP. 
Whatever product you select, make sure to keep it clean and maintain it properly for better durability and a longer lifespan. You can also make a warranty claim if you notice a problem.