Hey there! This post contains affiliate links to products. We may receive a commission for purchases made through these links. But it never influences our product selection process.
If you are searching for a balanced A/T tire for your SUV or truck vehicle, then a Nitto Ridge grappler and BFG KO2 are the best choice over a hundred options. These two offer great on-road traction, off-road performance, comfortability, and durability for their improved pattern design. Choosing one of them is still tough until you get the difference. So, let's know the difference between Nitto Ridge Grappler vs BFG KO2.
Nitto Ridge Grappler is better for off-road performance, whereas KO2 is better for on-road performance. The Nitto Ridge grappler has good traction on dry streets, mud, and rocky terrain. In contrast, KO2 has good traction on wet streets, snow, and ice. The Nitto ridge grappler has minimal noise, whereas the KO2 is slightly louder once it wears.
This short comparison can't give you an effective decision. Try to read this full article, where you will have a complete guideline with detailed comparison, overview, and user opinions. Let's get started.
Quick Overview: Nitto Ridge Grappler and BFG KO2
| | | |
| --- | --- | --- |
| Key Differences  | Nitto Ridge Grappler | BFG KO2 |
| Design | Hybrid or Rugged tire | All Terrain tire |
| Off-road performance  | Superior | Better |
| On road performance | Good | Better |
| Noise level | Less | More |
| Comfort level | Less  | More |
| Treadwear warranty | Limited | 50,000 miles |
| Price and Value | Expensive  | Affordable |
Nitto Ridge Grappler Overview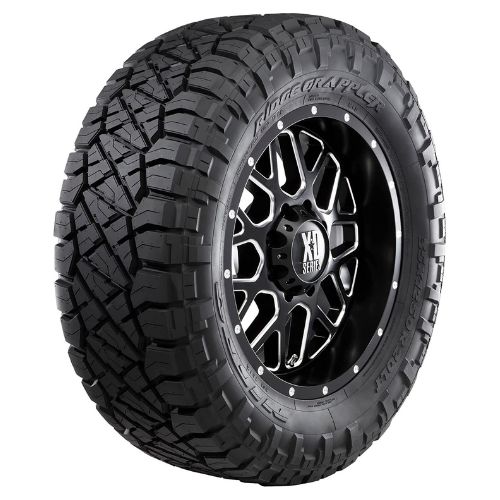 Nitto Ridge Grappler is a Japanese hybrid tire that performs like a mud terrain tire as well as an all-terrain tire. Tread patterns with wide grooves and aggressive shoulder lugs ensure remarkable off-road performance compared to other competitors. 
This aggressive design allows the tires to handle rough terrain very well.  Also, it offers a balanced ride on dry streets, and mud terrain with better gripping and handling. 
Manufacturers do a great job with an available variety of sizes. So any SUV and truck can have their adjusted tire with Ridge grappler. Moreover, Nitto Ridge Grappler is a perfect choice for overlanders and campers. 
Impressive off-road performance. 
Improve road traction in dry streets. 
Can handle rock terrain & mud terrain better.
Provide a smooth ride with minimal noise.
Poor wet traction performance
Treadwear warranty is limited 
Customer Reviews and Feedback:
Mike Vosseler shares his experience using Nitto Ridge Grappler tires. He is very satisfied with the comfortable driving performance and with minimal noise. 
He also shared that the tire works very well in rough terrain and mud terrain. Besides, the snow and Ice performance of the tire was also good for him. Mike rates it with a 5-star as he has not found a single issue.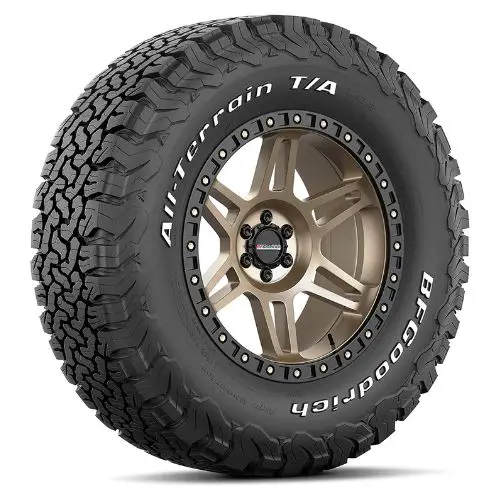 BFGoodrich KO2 is a popular all-terrain tire for remarkable highway driving performance. BFG KO2 features a tread design that enhances performance with long mileage even in snow, mud, or rough terrain. 
Its interlocking tread design allows tires to handle rocky terrain and wet streets effectively. Manufacturers ensure treadwear warranty with 50k miles and the price is also affordable. 
It will be the best tire option for those who want all-season tires. As it can perform well in dry and wet streets as well as has a snowflake rating to drive on deep snow in winter.
Offer smooth riding on snow and ice
Last longer.
Quiet performance. 
Good traction on wet roads.
The strong and reliable tire on an affordable budget.
Can be loud after worn. 
Driving performance on dry streets is poor.
Customer Reviews and Feedback:
Timothy recommended the mid-budget tire BFGoodrich KO2 for its remarkable on-ride performance. He said that the tire offers a smooth, quiet ride than other tires he owned. It has good wet traction and simply, its snow and ice performance is awesome. He gave this tire a five-star review with the headline "Great tires".
Nitto Ridge Grappler vs BFG KO2: Detailed Comparison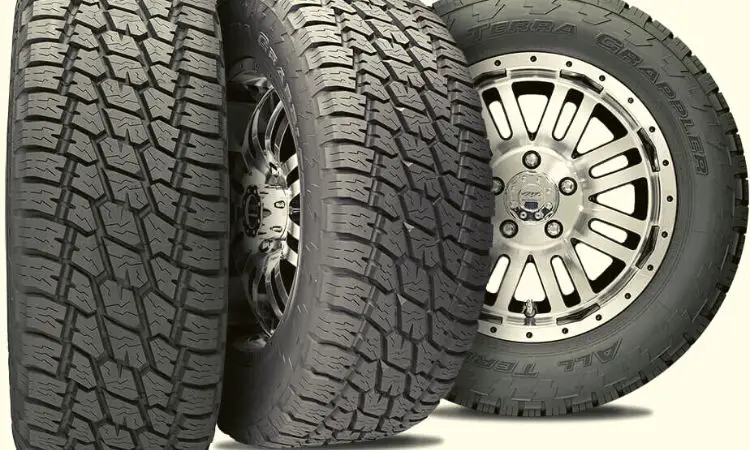 BFG KO2 is familiar as an all-terrain car tire that shows some similarities to its counterpart, such as Nitto ridge grappler or even Falken Wildpeak at3w. You can check the details here of how BFG KO2 is different from falken wildpeak at3w. 
However, here, I will show you the key differences between Nitto Ridge Grappler and BFG KO2. This detailed comparison lets you know which tire is best for you. Stay tuned.
Off-Road Performance:
Both tires have remarkable off-road performance. It's tough to differentiate, but Nitto Ridge grappler won in this segment for its improved design.
Mud terrain:
Nitto ridge grappler has wider grooves that help more mud to escape. The staggered shoulder blocks and the sidewall lugs help scoop out the mud better even when it's aired deep in mud.
On the contrary, KO2 has wider grooves and trade depth. Also, it has an interlocking design that creates a web and traps the particles so they are easily packed.
But, the staggered shoulder, along with deep notches, helps the tired to scoop out the mud as much as possible. However, it's not as effective as a Nitto ridge grappler. 
Rock Terrain:
In this segment, both tires stick better on rocks with their qualified design.
Both tires have cut-resistant rubber and durable inner construction. Both have 3 poly casings,  2 ply steel belts and wraps with layers of nylon. So, both protect the tire and sidewalls well when it's at a high speed and needs traction over the rock or gravel. 
The ridge grappler and KO2 feature a stone ejector to protect the bottom groove from the stone. They also have lugs that give them additional support with flexing sidewalls. 
Snow terrain:
BFG KO2 nailed it in this segment with the 3-peak mountain snowflake rating.  
BFG KO2 is so skinny, which helps to cut better through the snow. It has wide channels that allow easy removal of snow.
Nitto ridge grapplers have wider grooves that perform well in deep snow. But, it has a smaller width channel which isn't able to efficiently remove the snow as KO2. Again, the Nitto ridge grappler is also not snowflake-rated. 
So, KO2 beats over the Nitto ridge grappler in snow traction.
On-road performance:
BFG KO2 design as All-terrain tires make a win with a better on-road performance.
The Nitto ridge grappler is better for off-road performance, so it's slightly adjusted for on-road performance.
Let's know the detailed difference between dry and wet traction of these two tires.
Dry traction performance:
In the case of dry traction performance, Nitto Ridge Grappler shows slightly better performance than BFG kO2. 
 Nitto ridge grappler has large size blocks and wider grooves, and more biting edges that offer a large contact patch area. And, hence it improves the grip on the dry road better.
Whereas, BFG KO2 has small size blocks and wider grooves that offer smaller contact patch areas. And, hence it reduces the gripping and handling of KO2 on dry paved surfaces.
My Opinion: So, the Nitto ridge grappler has better grip, handling and traction on the dry road compared to the BFG KO2.
Wet Traction Performance:
 How efficiently do both tires perform on wet roads? Although, both tires aren't able to perform superior to resist slippage or wipe away water effectively. Well, BFG KO2 performs a little better than in the case of on-road wet traction.
When the Nitto ridge grappler rolls over the water, the side underneath the pressure removes its air and creates a vacuum. And this sucks in the water particles, which are later sprayed when the tire rolls over again. So, it's really not able to perform great on wet roads.
On the other hand, BFG KO2 has smoother layers on the top. It performs worse whenever it rolls over a stiffer compound like water or mud.
But, when compared with the Nitto ridge grappler,  KO2 is pretty much better as it has a two-layer compound design on its spike. That's why KO2 is waterproof and wipes away water much better. 
Noise level:
Comparing the noise level of both tires with aggressive design,  you'll be glad to see the result.
There is almost no significant difference, but the Ridge grappler is still slightly better for reducing noise. 
The ridge grappler has narrowed the void area in the center section, which helps to reduce the noise easily. 
Whereas BFG KO2 is also a quiet tire. But it starts being loud once the tire starts wearing. So, Ridge Grapplers are better than KO2 in noise level comparison.
Comfort level:
 When it's to comfort level, on-road driving performance will prioritize over off-road driving.
In this section, BFG KO2 has a better, smooth and more comfortable on-road driving performance than Ridge Grappler. 
All-terrain tires are very solid on road, whereas Ridge grapplers maintain their durability with thick and stiff material design. As a result, it offers a slightly more rough ride than the KO2.
Considering off-road performance, kO2 is smoother for its A/T series. 
Treadwear warranty:
A treadwear warranty determines the durability of a tire. Well, it's mentioned how long the tire will perform well with less replacement.
In this segment, BFG KO2 is a clear winner over Ridge Grappler. BFG KO2 has a warranty of 50,000 miles, whereas the Ridge grappler is limited.
Price and Value:
Always choose a tire considering its quality and reliability. If it's also affordable, then you are a lucky one.
BFG KO2 is inexpensive compared to the Nitto Ridge grappler. Ridge grappler is a hybrid tire offering mud terrain and all-terrain tire performance. So, it's gonna be expensive as well.
The starting price of BFG KO2 is less than the Nitto Ridge grappler.
Which Tire is Right for You- Nitto Ridge Grappler or bFG kO2?
Selecting the right tire for your SUV or truck depends on what things you expect from the tire. You better know this. Like, you can choose the tire basis on location. 
If your SUV or truck needs to ride on mud and tough terrain most, go with the Nitto Ridge grappler.  
Again, if you need a better riding performance on snow and ice rather than mud terrain or dry street,  pick up the BFG KO2.  Also, BFG KO2 will give you company for all seasons. 
While buying the tire, there are so many options available that can confuse you.  Let's make it easier.
The best option will be  Nitto Ridge grappler for your Light truck and SUV for the following features-
285/70R17 116Q SL NITTO RIDGE GRAPPLER
Its All terrain tread pattern makes the tire superior for off-road traction. 
It features Staggered shoulder lugs that help to improve traction on dirt, sand and mud.
The Dual sidewall design features an eye-catching aggressive block design.
The Stone ejector on the Ridge grappler provides effective stone retention.
The advanced sound equipment and variable pitch tread pattern reduce the noise and make it a quiet tire as well.
Again, you can also choose this  BFGoodrich Terrain T/A KO2 Radial Tire that can meet your expectations much better. The reasons are-
BFGoodrich Terrain T/A KO2 Radial Tire
This tire features locking 3D sipes that allow tread to flex and reduce the possibility of wear faster.
It has an Interlocking Tread element that helps to provide additional stability and improve traction on snow and ice performance. 
It also features a Serrated shoulder design to improve tire grip on contact area with less noise. So, it enhances better traction on mud, snow, and rock terrain.
BFG KO2 is a 3-peak mountain snowflake rated, so you can relax about the better driving performance on deep snow and winter season.
Frequently Asked Questions (FAQs):
Here are some commonly asked questions on Nitto Ridge Grappler VS BFG KO2.
Are Nitto Ridge Grappler tires good?
Nitto Ridge Grappler tires are good for off-road performance as well as on-road performance. It offers improved traction on dry pavement roads with minimal noise. The tread pattern of ridge grapplers is much more convenient to give a smoother ride than other tires.
Are BFG KO2 good tires?
If you need a tire that offers smooth highway driving and also superior performance all season, then BFG KO2 is a good tire overall. It can perform smoothly on long miles, even in deep snow or wet streets.
Are BFG KO2 hard to balance? 
Once they start wearing, BFG KO2 can be a bit hard to balance. After rotating it, the balancing issues can be fine. But, this is not a similar issue for everyone.
Are ridge grapplers better than KO2 in rain?
KO2 is better in wet streets than Ridge grappler. But if there's mud on the road, Ridge grapplers would scoop up the mud more effectively.  So, all over Ridge grapplers would be better in the rain.
Are Nitto Ridge grapplers loud on the highway?
Nitto ridge grapplers aren't loud on the highway. Nitto Ridge Grappler offers smooth riding with minimal noise for a better driving experience. 
Conclusion
Everything about the tire is reliable and well-balanced in your daily driving experience. Choose the tire according to the size that properly fits the wheels and ensure balance. And, make sure your tires work once they start wearing. If the tire is not working, rotate it for about 5000-8000 miles. 
So, what will be your next tire? Decide and share it in the comment section! Waiting to hear from you!