Hey there! This post contains affiliate links to products. We may receive a commission for purchases made through these links. But it never influences our product selection process.
For any off-road enthusiast, having reliable tires is a must. A good tire can make all the difference on whatever route you choose, a muddy path or over dunes. For off-road, Mickey Thompson Baja Boss AT and bfg ko2 are the two most recommended tires. Both are equipped with excellent features, so it's challenging to decide between these two.
While the bfg ko2 has a symmetrical tread pattern appropriate for both on- and off-road driving, the Mickey Thompson Baja Boss t has a more aggressive tread pattern for challenging off-road driving. The bfg ko2 has a less durable sidewall but a longer tread life and less noise. The Baja Boss is heavier and better for off-road performance, but it is also more expensive.
Do not panic; I am here to help you. I will explore the features comparison between these two tires. It may help you to get the right one for your vehicle.
Mickey Thompson Baja Boss AT vs BFG KO2: Quick Comparison Chart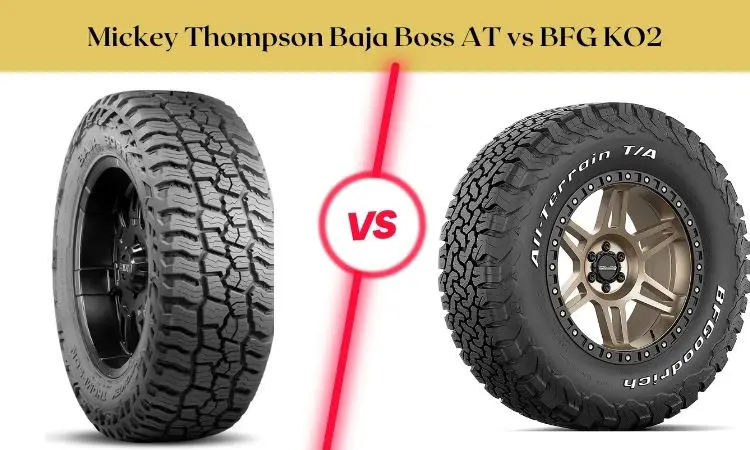 | | | |
| --- | --- | --- |
| Highlighted Features | Mickey Thompson Baja Boss | BFG ko2 |
| Tread Pattern  | More aggressive and chunky pattern | The symmetrical and uniform pattern |
| Tread Life  | Longer life | Shorter |
| Noise Level | Produce more noise | Produce low noise |
| Side Wall Construction  | Stronger | Poor |
| Weight  | Heavier | Lighter |
| Off-Road Performance  | Excellent | Good |
| Price and Value | Expensive | Affordable |
Mickey Thompson Baja Boss AT Overview
The Baja Boss A/T by Mickey Thompson is a high-performance all-terrain tire. It has an aggressive asymmetrical tread pattern optimized for off-road traction and reduced noise. 
Extreme Sidebiters and Powerply XD technology provide powerful off-road traction and puncture resistance. Silica-Reinforced Compound ensures long-lasting tread life and improved wet handling. 
The Baja Boss A/T is recommended for severe weather. It offers a 50,000 to 60,000-mile treadwear warranty. 
PROS:
Aggressive tread pattern for improved off-road traction
Reinforced sidewalls for added durability
Designed with stone ejector technology to prevent stone retention and punctures
Excellent performance in mud, sand, and loose gravel
Stylish and rugged appearance
CONS:
May have reduced traction and handling on wet or icy roads. 
Loud on pavement due to aggressive tread pattern.
Customer Reviews and Feedback
Customers have given positive feedback and reviews for the Mickey Thompson Baja Boss at Tires. 
With a 58 percent 5-star rating, customers have reported good performance, traction on wet and snowy roads, and a great off-road ride. The tires are also considered the quietest all-terrain tires and look great for 20″ rims.
The bfg ko2 is the most durable All-Terrain tire ever. It comes with a 50,000-mile warranty and a 60-day satisfaction guarantee. 
The tire is designed with Core Gard technology, unique tread rubber, and interlocking tread blocks. Such features ensure better traction in different conditions, including snow and mud.
It is an affordable choice but proves a good tire off and on-road.
PROS:
Ensures better off-road traction
Highly durable for tough paths
Comes with improved on-road handling
Ensures high comfort on-road
Straight but durable sidewalls
CONS:
Shorter tread life compared to some competitors. 
Poor traction on wet surfaces
Customer Reviews and Feedback
Bfg ko2 is an excellent tire because 90 percent of the customer gives it 5 stars for performance.
According to customer reviews, bfg ko2 proves excellent in sand, mud, and snow. One user claims that he has used them for 250,000 miles, but still, the tires are in good condition. After repeated abuse, tires stand well against challenging conditions.
If you want to read more reviews about different tire comparisons, you can visit this link: toyo open country at2 vs at3
Mickey Thompson Baja Boss A/T Vs. BFG KO2 
Tread Pattern: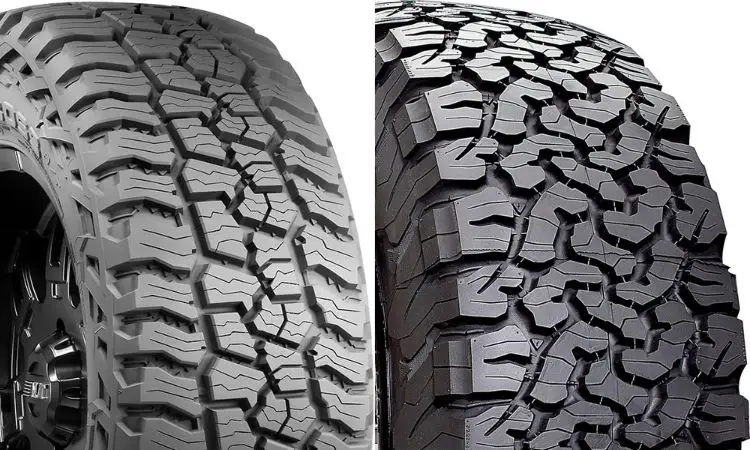 The tread pattern of the Mickey Thompson Baja Boss at and bfg ko2 tires differs.
The Baja Boss at has a more aggressive and chunky pattern, providing excellent traction and grip on rough terrains. On the other hand, the bfg ko2 has a more symmetrical and uniform pattern. Such pattern design makes bfg ko2 suitable for both on-road and off-road driving. 
However, the tread pattern of the Baja Boss at is better suited for intense off-road driving. 
Tread Life: 
Both the Baja Boss AT and bfg ko2 are known for their durability and long tread life. 
However, the bfg ko2 has a longer tread life due to its more symmetrical tread pattern. An additional feature is the advanced rubber compound also makes it more durable. 
Bfg ko2 also has a higher UTQG rating. You may find it more resistant to wear and tear than Baja Boss. 
Noise Level:
The noise level of a tire is an essential factor to consider. 
The Baja Boss at produces more noise due to its aggressive tread pattern. While the bfg ko2 has a more refined tread pattern. It reduces road noise and ensures a quieter ride. 
Bfg ko2 may prove a good tire if you prefer calm off-road driving.
Side Wall Construction: 
The sidewall of a tire is an essential component because it provides support and stability to your vehicle.
Baja Boss at tires come with strong sidewall construction features. So, they may prove excellent against cuts and punctures. On the other hand, bfg ko2 also has a rugged side wall but is less durable than Baja boss's. 
So, you should prefer Baja Boss if you love stable driving at off-roads.
Weight: 
Weight is also an essential factor because it directly impacts a vehicle's performance. 
While comparing, we found the Baja Boss at is heavier than the bfg ko2. They have chunky tread patterns and big sidewall construction.  Such a heavier size can affect your vehicle's acceleration, handling, fuel economy, and braking. In contrast, bfg ko2 is a lighter tire. It may offer better performance and fuel economy than the Baja Boss.
You can choose either of them, depending on your needs and preferences.
Off-Road Performance: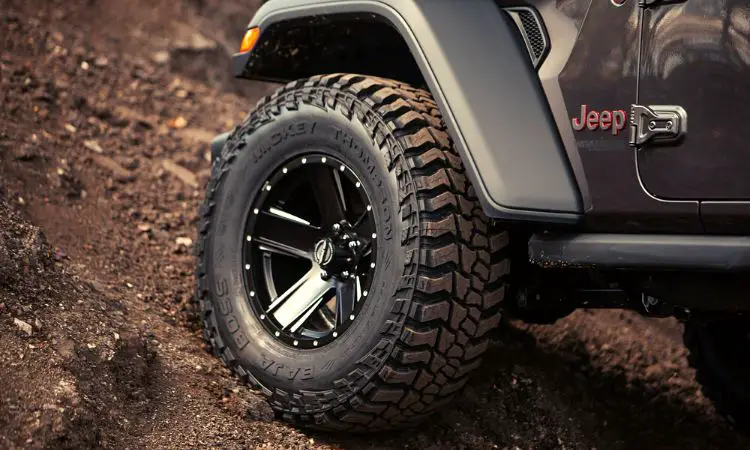 Off-road performance is our major concern because both tires are recommended for off-road users.
The Baja Boss AT is explicitly designed for off-road use. It provides excellent traction and grip on rough terrains. While the bfg ko2 is recommended for both off and on-road driving. 
When your concern is off-road performance, Baja Boss is a better tire for your vehicle than bfg ko2.
Price and Value:
Price and value of tire for the price one the major features to compare. 
Baja boss tires are more expensive than bfg ko2. The reason is that Baja boss tires are made of high-quality materials to support off-road driving. 
So, Baja boss tires also have value for the additional price you pay.
Did you know two of the best tires for off-road performances? They are known as falken wildpeak at3w and bfg ko2. You may also find a better tire after reading this versus guide- falken wildpeak at3w vs bfg ko2
Which Tire is Best For You?
Selecting the best tire for off-roading is a challenge because of the many options on the market. But here I have listed the 2 best tires that will take your driving experience to the next level.
It comes with CoreGard technology with split and bruise-resistant sidewall rubber to ensure durability. Its advanced deflection design and specially formulated tread rubber make it superior. The tire also has increased mud, snow, and rock traction with a serrated shoulder design for better performance.
Also, read here to find the best tires for you: Falken Rubitrek Vs. Wildpeak
How Long Does BFG ko2 Last?
Bfg ko2 tires are guaranteed to last up to 50,000 miles or more. But it depends on several factors. Some common factors affecting its lifespan include driving habits, routine, and maintenance.
How Often To Rotate BFG ko2
Bfg ko2 tires should be rotated every 6 months or 10,000 to 12,000 kilometers. It will maximize their lifespan and ensure safety. It is also good to regularly check and maintain proper air pressure.
Frequently Asked Questions (FAQs):
Are bfg ko2 good tires?
Yes, bfg ko2 tires are excellent. They ensure excellent traction on several surfaces. It ensures durability, reliability, and handling in challenging weather conditions. You can also use bfg ko2 tires on-road; it is quieter and smooth.
Are bfgoodrich ko2 tires good in snow?
Yes, bfg ko2 tires also perform well over snowy paths. The tires come with a snowflake symbol, which means they meet security standards on snowy tracks. Their aggressive tread pattern and siping ensure better traction and handling in snowy weather.
Are bfgko2 good for towing?
Yes, BFGoodrich KO2 tires are good for towing. They have improved road manners, better all-weather traction, and larger 20″ rims that provide stability while towing. But ensure you use the proper techniques while towing.
Are bfgoodrich ko2 tires loud? 
No, the BFGoodrich KO2 tires are not considered loud. They have a low audible "hum" more noticeable than highway tires. But they are not obnoxious or loud compared to other all-terrain and mud-terrain tires.
Conclusion
A good tire is essential for every drive, but it is more for off-road driving. Thompson Baja Boss AT and BFG ko2 are excellent tires for off-road driving. 
Both have excellent features, but better traction and advanced features make the Thompson Baja Boss A/T better than BFG ko2 for off-road. But bfg ko2 comes with versatility that can be used on-road. So, it may also prove an affordable and versatile tire that works best on all road conditions.