Hey there! This post contains affiliate links to products. We may receive a commission for purchases made through these links. But it never influences our product selection process.
When choosing the right all-terrain tire for your vehicle, plenty of options are available on the market. Two popular choices are the Toyo Open Country AT2 and AT3. Both tires have unique features and benefits, making it tough to decide which is the best fit for your vehicle.
AT3 has a smaller tread pattern with more biting edges. It has larger grooves, better durability, and less noise than the older AT2 tire. It ensures better on and off-road performance. On the other hand, AT2 has larger tread blocks, fewer biting edges, and is less effective in wet conditions. 
However, I will explore at2 and at3 tires, which may help you pick the right one for your vehicle. Stay connected and choose the best tires for your vehicle.
Toyo Open Country AT2 Vs AT3 – Quick Comparison Chart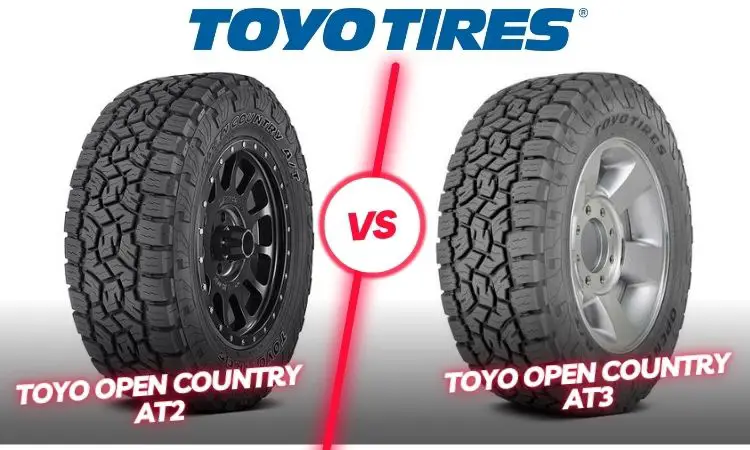 | | | |
| --- | --- | --- |
| Highlighted Features | At2 | At3 |
| Tread Pattern | large circumferential grooves | smaller tread blocks and larger grooves |
| Wet Weather Performance | Good | Excellent |
| Durability and Tread wear | Good | Excellent |
| Noise Level | Poor control | Quieter |
| Price and Value | Affordable and good value for money | Expensive but excellent value for money |
The Toyo Open Country AT2 is a tire designed for tough off-road conditions. With an aggressive sidewall and open tread block design, it provides excellent performance in dirt, mud, and snow. 
The tire's wear-resistant tread compound ensures a long lifespan. While the deep tread grooves and stone-ejecting blocks enhance traction and prevent stones from getting lodged in the grooves. 
Despite its rugged capabilities, the Open Country AT2 also delivers a smooth and quiet ride on paved roads.
PROS:
Ensures impressive traction on both wet and dry surfaces.
Excellent durability and longevity for a comfortable ride.
Low road noise for a quieter driving experience.
Ability to carry heavy loads.
Enhanced off-road capabilities.
CONS:
Not the best option for extreme off-road conditions.
Can be noisy on the highway.
Customer Reviews and Feedback
The Toyo Open Country AT2 has received mostly positive customer reviews and feedback. While 68% of customers have given it a 5-star rating for performance, some have pointed out a few cons. 
Customers noted that the tires are more aggressive than the older models. But they require fender and wheel well trimming for a proper fit. However, they have a smooth ride on highways with minimal noise. 
Some customers have complained about loose lugs and tire pressure. However, the installation price is reasonable.
Did you know about Falken wildpeak at3 and bfg ko2 tire? If you don't know which one is best you can read this analysis: Falken Wildpeak at3 vs bfg ko2. 
The Toyo Open Country AT3 is a new tread compound tire. It provides excellent off-road grip and confident wet braking and handling. 
Its evenly distributed void area enhances on and off-road traction. At3 also increases tread block rigidity for excellent handling stability. The tire also features increased lateral grooves, 3D multi-wave sipes, stone-ejecting blocks, and staggered shoulder lugs. 
Its best features enhance surface traction, reduce irregular wear, and improve off-road traction with biting edges. The tire also delivers a quiet and comfortable ride, making it a reliable option for adventurous drivers.
PROS:
Excellent off-road traction
Long-lasting tread life
Quiet and comfortable on-road performance
Good wet and dry handling
Available in various sizes for different vehicles
CONS:
Low performance on snow and ice 
Not suitable for extreme off-roading
Customer Reviews and Feedback
The Toyo Open Country A3 receives high customer praise, with 89 percent giving it a 5-star performance rating. 
Despite the aggressive tread, they ride quietly and provide superior grip compared to other tires. While they may not look flashy, the tread performs well on and off-road terrain. 
Many customers have been using these tires for years and are extremely satisfied with their performance and affordable price.
If you want to compare these two all-terrain tires to other brands, I would say, you can compare it to others after reviewing this comparison post nitto ride grappler vs bfg ko2. 
Toyo Open Country aT2 vs. aT3
Tread Pattern: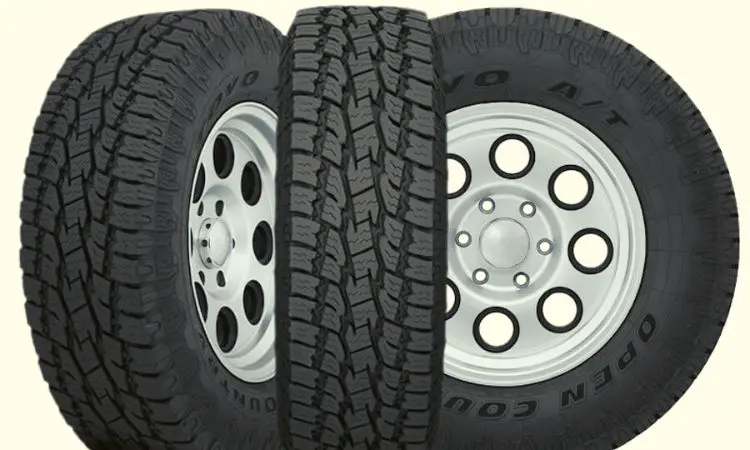 The tread pattern on the Toyo Open Country AT3 features smaller tread blocks and larger grooves compared to the AT2. The AT3 has Superman S-shaped blocks, but they are separated and made smaller in size. 
This design provides more biting edges for improved grip, while the larger grooves are intended to vent water and prevent aquaplaning. 
On the other hand, the AT2 has four large circumferential grooves around the tire. The tread blocks on the AT2 are larger and have fewer biting edges. It makes them less effective at providing a grip on the road. So, the AT3 tire is a better tire than the AT2 tire.
Wet Weather Performance:
Toyo claims the AT3 tire performs better in wet weather than the AT2. The larger grooves on the AT3 are expected to improve water dispersion. While the smaller tread blocks provide more biting edges for better grip. 
The AT2, on the other hand, has fewer grooves and larger tread blocks. It reduces its ability to disperse water and provide good traction on wet surfaces. So, you may find the AT3 tire better than the AT2 tire in wet weather conditions.
Durability and Tread Wear:
The manufacturer claims their AT3 tire has better durability and tread wear than the AT2. The new 3D multi-wave siping method on the AT3 tire offers extra grip on the ground. It will likely contribute to its durability and tread wear. 
On the other hand, At2 is an older version that does not have a 3D multi-wave siping feature. So, you may also find it durable, but it is less durable than the advanced tire AT3.
Noise Level:
Toyo suggests the AT3 tire will be quieter on the road than the AT2. It has more sipes and a staggered block arrangement, making it less noisy. 
On the other hand, at2 has a simpler block design with fewer sipes, which may produce more noise on the road. At3 is the best tire for those who are looking for a smooth and quiet driving experience.
Price and Value:
At3 is a more modern featured tire than At2. It is more expensive than AT2, but the extra price has its value. With the best features, AT3 ensures a better, safer, and smoother driving experience in all conditions.
On the other hand, at2 also comes with good features that beat many competitors in the market. If you have a smaller budget, AT2 can be an excellent tire for your vehicle.
Hankook Dynapro at2 vs Toyo Open Country at2
The Hankook Dynapro AT2 and the Toyo Open Country AT2 are all-terrain tires for light trucks, SUVs, and other 4×4 vehicles. 
The Dynapro AT2 features multi-directional grooves and sipes, locking shoulder lugs, and staged block edges. Such features improve its traction and reduce road noise. The tire also has tie bars that stabilize tread blocks for a comfortable ride. 
An aerodynamic shoulder design minimizes road noise. It has a durable compound and ProMileage technology to maximize road contact for extra mileage.
On the other hand, the Toyo Open Country AT2 has an aggressive sidewall and open tread block design. The tire delivers rugged looks and performance in dirt, mud, or snow. 
Its wear-resistant tread compound and deep tread grooves with stone-ejecting blocks make it durable. The tie-bars between blocks and polygonal blocks with zigzag sipes contribute to excellent snow performance.
Toyo Open Country at3 vs Firestone Destination at2
The Toyo Open Country AT3 and Firestone Destination AT2 are all-terrain tires that perform well on and off-road.
The Toyo Open Country AT3 offers a quieter and more comfortable ride. Its new tread design and compound provide excellent grip on wet surfaces and resistance to cuts and chips. It also has evenly distributed void areas and increased lateral grooves that enhance surface traction. 
You can drive safely over snow and stone-ejecting blocks. The staggered shoulder lugs improve off-road traction with biting edges.
On the other hand, the Firestone Destination AT2 has an aggressive shoulder tread pattern. It helps improve off-road handling. Its full-depth interlocking 3D sipes provide even wear and consistent performance. 
An increased surface and see-through void help to improve water evacuation to enhance wet stopping and handling. It has an overall performance rating of 4.7 stars out of 5.
If you have time to read more reviews about different tire comparisons, you can visit this link: falken rubitrek vs wildpeak.
Which Tire is Best For You?
It is a common question on everyone's mind, which tire is best for your vehicle? Here I have listed the two best tires in At2 and At3 by Toyo Open Country that may prove best.
Toyo OPEN COUNTRY AT2 All-Terrain Radial Tire
TOYO OPEN COUNTRY A/T III
The Toyo Open Country at3 is an advanced all-terrain tire that offers excellent off-road traction and on-road handling. It has advanced tread design and construction. It gives it exceptional stability, a quiet ride, and durability. It comes with a treadwear warranty of up to 65,000 miles.
Frequently Asked Questions (FAQs):
Are Toyo open Country at3 any good?
Yes, it is generally agreed upon that Toyo Open Country AT3 tires are a wise choice for all-terrain driving. Given all of its contemporary features, it is the best vehicle to drive. They provide good traction on various surfaces and have a long-lasting tread life.
Are Toyo open Country at2 any good?
Yes, the Toyo Open Country AT2 is a good all-terrain tire. It offers excellent performance on and off-road. You can enjoy a good driving experience for years with good traction and durability. It is also relatively quiet and comfortable on the highway.
Why are Toyo tires expensive?
Toyo tires are expensive because of their high-quality materials and advanced technologies. They use Nano Balance Technology. Toyo invests heavily in research and development to create top-performing tires. So, you may find their tires more expensive than others.
How long do Toyo tires last?
Toyo tires' lifespan may vary based on usage, maintenance, and environmental factors. However, Toyo recommends replacing tires that are ten years old or more. You may continue if the tires do not have a problem, but it is better to replace them for your safety.
Conclusion
An excellent quality tire like the Toyo Open Country's tire can make driving more comfortable and enjoyable. Its AT2 and AT3 are two of the best tires that perform excellently. 
However, at3 is an advanced version of at2 that offers better and outstanding features to ensure a smooth drive on all roads. But additional features also make them more costly than at2. At2 tires are also an affordable choice that lasts for years with good performance.