Hey there! This post contains affiliate links to products. We may receive a commission for purchases made through these links. But it never influences our product selection process.
The Honda Civic has a modern Bluetooth system that lets you enjoy your favorite music or streaming. But, certain problems can prevent your devices from connecting to Bluetooth. If your Honda Civic has Bluetooth issues, then fixing it ASAP is necessary. But do you know How to troubleshoot the Honda Civic Bluetooth not working?
Software updates and changed phone settings are probably why Bluetooth is not working. You must update the software and change the settings to fix the issue. However, some problems, such as too many connected devices, low-power batteries, and incompatible devices, may also be the culprits.
Let's join me! I will resolve the Honda Civic's Bluetooth connectivity problem.  
Common Causes of Honda Civic Bluetooth Issues
Honda Civic Bluetooth issues can arise for many reasons, but here, I have listed a few important ones.
Software Updates 
Recently changed Phone settings
Too many devices connected to your device
Low power battery
Incompatible device
Fix your door lock issues after reading this blog: Honda Civic door lock not working
Honda Civic Bluetooth Not Working [Problems and Solutions]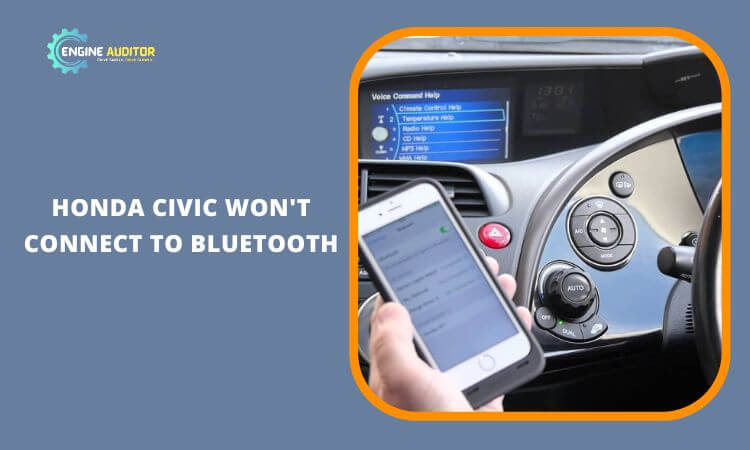 Problem 1: Software Updates
Updated software ensures the proper functioning of Bluetooth. However, if the software has been updated recently, but you need to remember to update it, it may disrupt your car's Bluetooth connection. It may raise issues due to bugs, so it needs an immediate update to access the proper connection.
Solution:
Visit the Honda Civic website and check for the latest software updates.
If there is an update, then update the software on your car.
Remove all paired devices, establish a new pairing, and then connect it to your device.
Test it by connecting 3 to 4 times and checking it by playing different tracks to ensure there is no issue. 
Problem 2: Phone Settings Have Been Recently Changed
Sometimes, you or someone else using your phone mistakenly changes the phone settings, and instructions for pairing with your Honda Civic also change. You must check for the phone settings when you have a Bluetooth issue.
Solution:
Go to your phone's "Settings" menu.
Next, click on the "Bluetooth" option to access Bluetooth functions.
Check for the paired devices and ensure your car is also on the list.
If the car connection is missing, repair it to connect it.
It may also help you fix Bluetooth problems on Chevy Equinox: Chevy Equinox Bluetooth not working.
Problem 3: Too Many Devices Connected With Your Smartphone
Your device can connect to only one audio system at a time. Sometimes, your phone is connected to multiple devices, making it unable to plug in with your Honda Civic audio system.
Solution:
Go to your phone's settings and the Bluetooth menu.
Check for the connected devices list to ensure no other devices are connected.
However, if other devices are connected, disconnect them and ensure the phone is free.
Once done, connect it to your Honda Civic
Test and ensure Bluetooth is working okay.
Problem 4: Low Battery 
On their phones, people use power-saving mode, which prevents high power-consumption apps from running when the mode is activated. Bluetooth also consumes too much power, so it may restrict and turn off Bluetooth if the power saver is on.
Solution:
First, check the battery power on your phone and ensure it is not low.
You might be using power-saving mode if the battery is running low. It is better to recharge the battery. But if you are in a hurry, first go to settings and turn off the power-saving app.
Once you turn off the power saver, your Bluetooth will start working.
Test and ensure the issue has been solved.
Are you hearing a clicking noise when you try to start the Honda Civic but cannot start? Visit this link: Honda Civic not starting clicking noise.
Problem 5: Incompatible Devices 
Honda Civic Bluetooth can only accommodate compatible devices. It has software and hardware requirements for the devices to connect to it. If your phone is incompatible, you cannot connect it.
Solution:
First, read the Honda Civic user manual to ensure there is a list or information about devices to connect to its Bluetooth.
Now, go to your phone settings and the "About phone" menu to ensure your phone specifications are compatible. 
If it is not compatible, then try another device. 
Do you have issues with your Honda Lane Watch cameras? Here is the solution: The Honda Lane watch camera not working
Honda Civic Bluetooth Not Turning On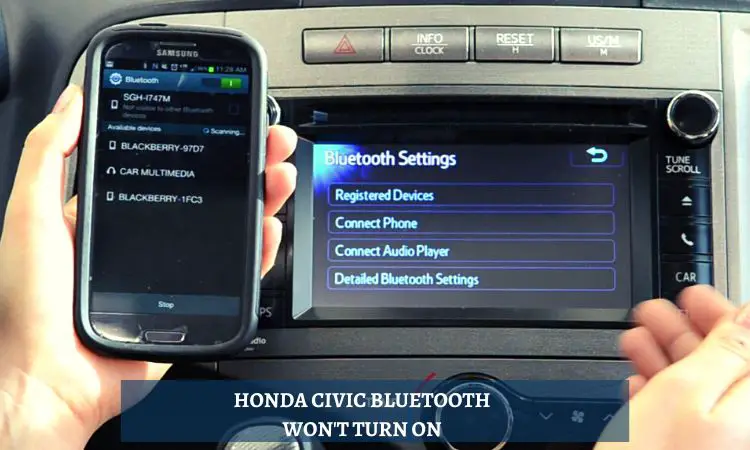 Multiple reasons can exist when your Honda Civic Bluetooth is not turning on. Here is a list of common issues that may prevent Bluetooth from turning on.
Low battery
Faulty Bluetooth module
Blown fuse
Solution:
First, check your car's battery level and ensure it is okay. You will need a multimeter to test the battery voltage. I recommend INNOVA 3320 Auto-Ranging Digital Multimeter to see the correct results.
If the battery is low, first recharge it.
Next, check for the Bluetooth module and ensure it is active and connected. If not, then activate it and connect it.
Check for the Bluetooth fuse in the fuse box if the issue still exists. Open the car's hood and locate the fuse box. Find the Bluetooth-related fuse in the diagram on the fuse box.
Check the fuse box; if it is faulty, replace it with a compatible fuse.
Now, test and ensure Bluetooth is working.
Honda Civic Delete Bluetooth Device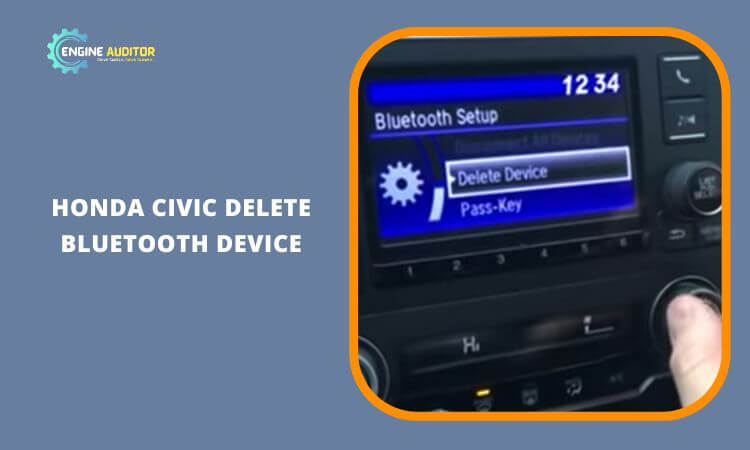 Follow the easy step-by-step instructions below to delete the Bluetooth device on your Honda Civic.
Turn your Honda Civic's ignition switch on.
Then go to "Settings" or the "Bluetooth" menu.
Now, you will see the list of connected or paired devices.
Tap on the device you want to delete; you will see the "delete" option once you tap. Click on that and confirm to delete the device.
Fix ignition switch problems on your Honda Accord after reading this blog: Honda Accord ignition switch problems and solutions.
Honda Civic Bluetooth Reset
Here is a simple step-by-step process to reset Bluetooth on the Honda Civic.
Switch on the Honda Civic's ignition.
Then go to its settings menu and then the "Bluetooth" menu.
Then, go to the paired devices list and delete the devices from the list.
Also, restart your phone's Bluetooth.
After restarting, re-pair it to your car.
Once paired, check and ensure the Bluetooth is working okay. 
Frequently Asked Questions (FAQs):
What is the Bluetooth pairing code for the Honda Civic? 
The Honda Civic Bluetooth system lets you set a unique code to keep your Bluetooth system safe. However, if you do not set it, the default code for Honda Civic Bluetooth is 0000. You can get access with this code and set your secret code.
How do I update the Bluetooth software in my Honda Civic?
Updating Bluetooth software on the Honda Civic is very simple. Follow the steps below to update properly.
01. Check for updates on the Honda Civic website.
02. Then, download the latest updated software on a USB drive and connect the USB port to the car via USB port.
03. Then follow the instructions on the screen to update the software
04. Once done, restart the car's infotainment system and test the Bluetooth to ensure it works fine.
What is the range of the Bluetooth in the Honda Civic?
You may see variations in Bluetooth range depending on different models. But for the Honda Civic, the usual Bluetooth range is up to 30 feet for a stable connection. After 30 meters, the response may need improvement.
How do you connect an iPhone to a Honda Civic Bluetooth?
01. First, switch on the Honda Civic's ignition system.
02. Go to settings and turn on Bluetooth.
03. Now go to your iPhone's settings and then Bluetooth.
04. Search for the available devices to pair.
05. Click on your car's Bluetooth when it appears.
06. Accept the pairing for your car.
07. Once accepted, the iPhone is paired.
08. Click on Connect and Connect your iPhone and car.
09. Check to ensure Bluetooth is working.
Conclusion
Bluetooth allows easy access to your favorite music without connecting via a USB port. But over time, you may experience Bluetooth issues with your Honda Civic. If you experience it, don't be frustrated; diagnose the issue and fix it accordingly. If your problem cannot be fixed, get help from an expert or user manual.