Hey there! This post contains affiliate links to products. We may receive a commission for purchases made through these links. But it never influences our product selection process.
The master reset is a helpful technique to solve many issues in Ford Sync. Over time, you may experience a Ford sync master reset not working. Undoubtedly, it is frustrating when you cannot benefit from this helpful facility. In that case, there are no alternative ways to fix such an issue on your Ford Sync vehicle. Let's talk about how to fix the Ford sync master reset not working. 
Start by looking for software bugs; if that doesn't reveal the problem, look for hardware problems and fix or replace them as necessary. Also, check for the power supply issue and memory corruption. Additionally, check for updates to access new features if you have an older software version.
No worry, here you can discover the possible causes and their solutions for the Ford Sync master reset not working. Let's learn and get back your Ford Sync system back on track.
Causes Of Ford Sync Master Reset Not Working
Your Ford sync master reset may become unresponsive due to several reasons. So, deciding where to start to identify the exact cause becomes overwhelming. I've listed the top five reasons why the Ford Sync master reset might not work for your assistance. Whenever you face this issue, you must consider checking the list below.
Software glitch
Hardware malfunction
Power supply issues
Memory corruption
Outdated Software
Does your Ford sync radio have no sound? Visit this link to solve the problem: How to fix Ford Sync radio no sound?
How To Fix The Ford Sync Master Reset Not Working? Problems And Solutions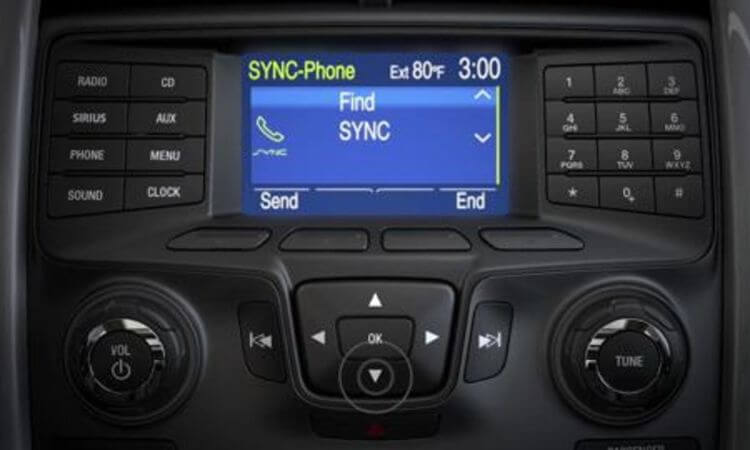 Problem 1: A Software Glitch
A software glitch can disrupt the functionality of the Ford Sync button. It can cause errors in the underlying code or logic. It may lead to improper communication or incorrect responses between the button and the software system.
Solution:
Park your vehicle in the garage and turn off the ignition switch. 
Now open the vehicle's hood and disconnect the battery by removing its terminals.
Once the battery is disconnected, leave it for at least 15 minutes
After 15 minutes, connect the battery terminals. Make sure you are connecting it correctly
Once the battery is connected, switch on the vehicle, check for the software glitch, and ensure the issue has been resolved.
Problem 2: Hardware Malfunction
Another problem that may cause the Ford sync master reset not to work is a hardware malfunction. A faulty connection or damaged button may prevent the Ford sync button from functioning. You should check for hardware malfunction if you experience the issue.
Solution:
First, turn off the Ford vehicle.
Check for the Ford Sync Master reset button and ensure it is okay.
If the button is damaged, you may need to replace it. 
Remove the damaged button by unscrewing it with a Phillips screwdriver. I recommend Wiha 32092 Slotted And Phillips Insulated Screwdriver.
Once removed, install the new button and ensure it is correctly mounted.
Remember to test its functioning before winding up your job.
Problem 3: Power Supply Issues
Power supply issues can affect the voltage that may fail to supply sufficient voltage to the button for correct working. Inadequate power can disrupt the button's ability to transmit signals effectively, resulting in it needing to be fixed.
Solution:
Switch off your Ford vehicle and remove the key from the ignition switch
Then check for the power supply unit near the sync system
Remove the nuts or bolts using a Phillips head screwdriver, then remove the power supply unit. Check it for wear or damage.
If it is damaged, replace it with a new one. My recommendation for a Ford sync system is CTEK PRO25S, 25A, Power Supply. It is compatible with all Ford models.
Once replaced, test the functioning and ensure the problem has been resolved.
Problem 4: Memory Corruption
Memory corruption can occur due to software or hardware issues. It may cause data corruption in the system. If the Ford Sync button's configuration or settings are affected by memory corruption, you may become unable to use the Ford Sync master reset.
Solution:
Turn off your vehicle and disconnect its battery. 
Once the battery is disconnected, leave it for five minutes.
After 5 minutes, reconnect the battery and switch on the vehicle.
Then push and hold the "Volume Down" button and  "Audio Power" button simultaneously. Keep them pushed for at least 10 seconds.
After 10 seconds, release both buttons when you see a Ford logo appears on the screen.
The Ford Sync system will begin the master reset process.
Follow any on-screen instructions to complete the reset.
After the reset is complete, test the Ford Sync system to ensure the memory corruption issue has been resolved.
Is the Ford Touch screen not responding? No worries, visit this link and quickly solve the problem: Ford touch screen not responding to touch.
Problem 5: Outdated Software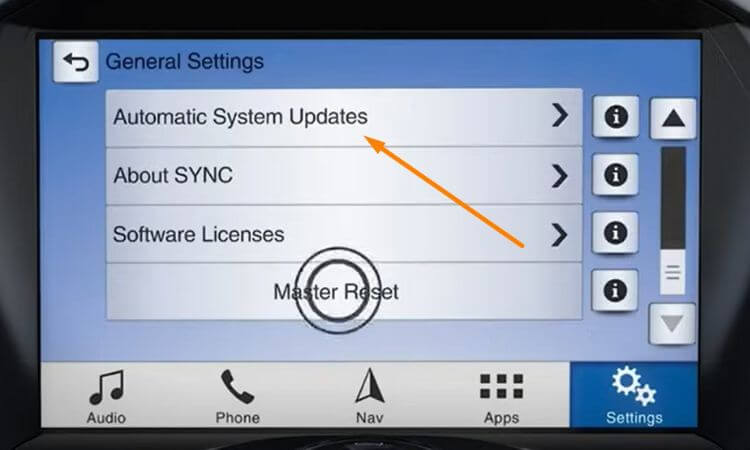 Older software may not be compatible with button features, which could lead to a failure to recognize the proper inputs. So, it may make the Sync master reset button unresponsive. 
Solution:
Switch on your vehicle and access the settings menu
Connect your system to the internet or Wi-Fi
Go to the Ford website and check for the Sync system software update
If there is an update, update your software
Once the software is updated
Disconnect the system from the internet and test its functioning to ensure the problem is eliminated.
Why My Ford Sync Menu disappear?
There can be many reasons why your Ford Sync menu disappeared. You may have a software glitch or a system malfunctioning issue. It can be due to faulty or disconnected connections. 
Sometimes, software updates can be the reason for the disappeared Ford sync menu. But no worries, it can mostly be fixed by updating the software or restarting the system. 
However, if the problem exists, you have to consult with an expert to get rid of the problem.
Why Does Ford Sync Master Reset Black Screen?
The Ford Sync master reset can sometimes result in a black screen. This issue occurs when the system encounters a problem during the reset process, causing the screen to go dark. 
It may be due to software issues or a faulty reset procedure. 
Note: Try the reset again, ensuring you follow the right instructions to fix the issue. 
How To Do a Ford Sync Master Reset?
To perform a master reset on Ford Sync, follow these steps:
Switch on your vehicle and turn on the Ford Sync system.
Go to the "Settings" menu on the Sync screen and tap on it.
Once you access the settings, scroll through the menu options and select "System."
Now in the System menu, find and select a menu with the name "Master Reset."
You will see a confirmation message on the screen asking if you want to proceed with the reset. Tap "Yes" to confirm.
Wait for a couple of moments to reset the system. Sometimes, it may take a few minutes.
Once the reset is complete, Ford Sync will restart, and the system will be restored to its default settings.
Reset Ford Sync To Factory Settings:
To reset Ford Sync to factory settings, follow these steps:
Switch on your vehicle and go to the Syn system "Settings" menu
From this menu, go to the "System" menu
then scroll down and choose another option named "Master Reset."
Now confirm the reset by selecting "Yes." 
After pressing "Yes" Wait for the system to reset; it can take a few minutes
Once the reset is complete, Sync will restart with factory default settings.
You may also like: Ford f150 won't start with no clicking noise problems and solutions
Frequently Asked Questions (FAQs):
Is there a fuse for Ford SYNC?
Yes, there is a fuse for Ford SYNC. It can be found in the passenger compartment fuse box, which is located on the right side below the glove box. The specific fuse or relay number, fuse amp rating, and the components it protects may vary.
How do I hard reset my Ford? 
To hard reset your Ford vehicle, start it and ensure it is running in the park. Then, on your vehicle's SYNC screen, go to Settings, select General, scroll down, and choose Master Reset. Finally, press Continue to initiate the reset.
Can I manually SYNC? 
You can manually sync your vehicle by visiting the SYNC and Navigation Update page. Next, Enter your VIN or sign in to your Ford account, select your vehicle, choose "Check for update," and then select the dropdown under SYNC UPDATES.
How much is to fix Ford Sync master reset not working?
The cost of fixing a Ford Sync master reset issue can vary depending on the specific problem. Mostly you do not need to spend a penny to fix the problem. However, if the power supply or sync system needs replacement, it can cost up to a hundred dollars.
Conclusion
Ford's sync master reset is a wonderful feature for diagnosing and fixing many issues. But over time, you may need help with Ford Sync itself. No worries; you can fix it yourself by following the above instructions. 
You can try it yourself because, most of the time, you do not need anything to fix the problem except some settings changes. 
However, before setting out for a job, ensure you have a proper understanding; otherwise, take help from a professional.