Hey there! This post contains affiliate links to products. We may receive a commission for purchases made through these links. But it never influences our product selection process.
The Falken Rubitrek and Falken Wildpeak are the best choices out of a hundred for a balanced tire for your SUV or truck. These tires are designed to provide exceptional performance and longevity, making them popular among off-road enthusiasts. Their solid structures allow them to withstand rough terrain and inclement weather. While both tires are built to deliver exceptional performance, they have distinct differences that set them apart.
The Rubitrek is an all-terrain tire performing admirably in wet and dry situations. It boasts aggressive tread patterns and a two-ply sidewall for additional durability. On the other hand, the Wildpeak is a more durable off-road tire with an aggressive tread pattern. It can easily handle mud, snow, and rocks with this tire. Besides these, it features heat-dissipating technology for enhanced durability.
This brief comparison will not allow you to pick the right option. Check out the full blog for a complete guideline with extensive comparison, summary, and user views. Let's get started.
Comparison Table: Falken Rubitrek Vs Wildpeak
| | | |
| --- | --- | --- |
| Feature | Wildpeak | Rubitrek |
| Tire Type | All-Terrain | All-Terrain |
| Tread Design | Aggressive | Aggressive |
| Tread Depth | 13 | 14 |
| Dry Road Performance | Very Good | Excellent |
| Wet Road Performance | Very Good | Excellent |
| Mud Traction | Excellent | Very Good |
| Snow Traction | Excellent | Very Good |
| Noise | Noisier | Less |
| Durability | Excellent | Very Good |
| Warranty | 55,000 Miles | 55,000 Miles |
| Price | Check Latest Price | Check Latest Price |
Rubitrek has something of a closed tread design because of its narrower grooves but greater tread depth.
This tire's shoulder lugs all have the same form and sharp edges.
The center row of blocks is divided into three rows; the two side rows feature little blocks, while the central row has longer tread blocks.
The tread has sipes all over it, as well as a few little stone emitters.
PROS:
One of the best tires for driving in snow and rainy weather.
Provides consistent traction in snow, rainy, and dry situations.
Heat diffusing technology in the bottom sidewall at high speeds keeps the tire temperature cool.
Full-depth sipes and grooves provide stable performance during the tire's life.
CONS:
On pavement, the tread is still louder than less aggressive LT tires.
Dry road handling is better than wet or off-road traction.
Note: The company needs to work on the tire's quality so that it does not create noise and offers good handling on all terrains.
Customer Reviews and Feedback
Customers have given the Falken Rubitrek tires high ratings. They are praised for their outstanding off-road ability, especially in muddy and rough terrain. 
Consumers have also commented on how well the tires perform in rainy conditions and how quiet and comfortable they are on the highway.
Like Benton L shares his experience, the grip is perfect even though the tires do not last long. And that the soft compound assists in off-roading.
He gives the tires a 5/5 rating, with the average tire rating being 4.4 out of 5.
Wildpeak Overview: Things To Know
Wildpeak has a larger void ratio than its competitors due to its open tread design.
The grooves surrounding all the tread blocks are extensive, yet they are shallower than their counterparts.
Generally, the tread pattern is aggressive with jagged shoulder blocks. Two types of shoulder lugs are present, some with an empty gap in the center and others without any space.
Central tread blocks are also available in various forms, with almost all having sharp edges and some having hook shapes. Z-shaped central blocks are used for larger central blocks.
PROS:
One of the most extraordinary all-terrain tires on the market, capable of transporting you practically anywhere.
Features the thickest tread in the class, providing consistent wet and snow performance for the tire's life.
The lower sidewall is outfitted with heat diffuser technology, which aids in keeping the tire cool at high speeds.
Sidewall offset shoulder blocks protect the tire's sidewall, especially in off-camber or low tire pressure circumstances.
CONS:
Riding conditions are unpleasant because the tires make it uncomfortable and are noisier.
4D Nanotechnology is unimpressive.
It needs a better grip on soft terrain.
Customer Reviews and Feedback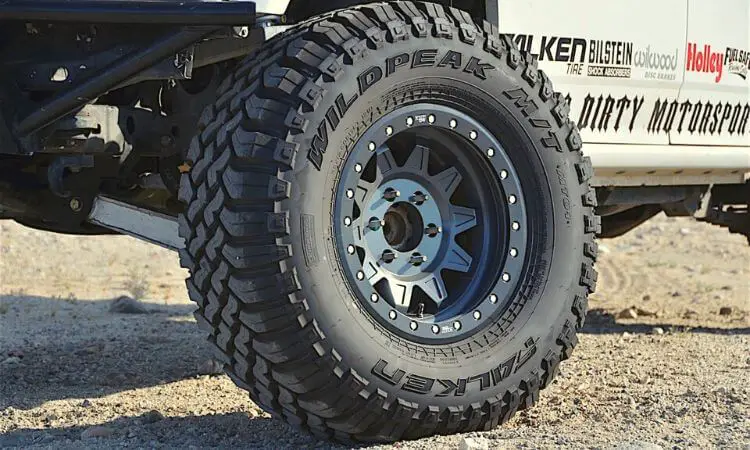 Christopher Shorkey shares his experience with the tires. He explains how he was amazed by the grip of these tires, especially when the road was snow-filled.
Due to good customer reviews like these, this tire has an average rating of 4.8/5 on Amazon.
Difference Between Falken Rubitrek vs. Falken Wildpeak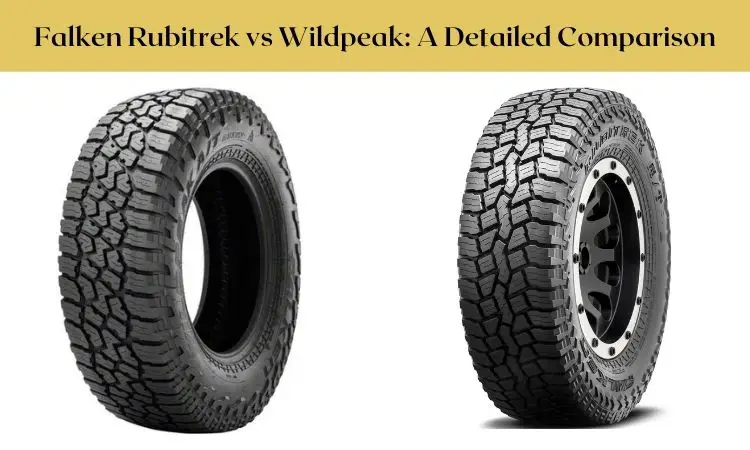 As like the differences between falken wildpeak at3w vs bfg ko2, you will find some dissimilarities between Falken Rubitrek and Wildpeak. Let's take a look at it. 
Treadwear:
Both tires are built to be solid and long-lasting. Sturdy tread blocks with support ramps and step-down features assist in keeping stones out of the grooves. They also improve movement and stability.
The Rubitrek and Wildpeak are made to last long thanks to a Silica rubber composition.
Even then, the Falken Rubitrek has a minor advantage in terms of treadwear. The Rubitrek's tread center blocks are closer together than the Wildpeak's tread center blocks.
Off-Road Performance:
The Rubitrek and Wildpeak have exceptional off-road capabilities. These tires feature the most tread depth in the class. 
Rugged and rough tread blocks have exceptional ground penetrating skills, which is helpful in muddy or rock-filled terrain.
With their improved technology and challenge-ready tread, both tires allow hardened trucks and SUVs to overcome practically any terrain. 
Nonetheless, the Falken Wildpeak has a little edge in off-road capability over the Falken Rubitrek. 
The tread pattern of the Wildpeak is uniformly dispersed throughout, including the center, as opposed to the Rubitrek, where the blocks in the middle are closer together.
On-Road Performance:
While the Rubitrek and Wildpeak are competent AT tires, they handle on-road tasks well. 
Both tires may be used to travel comfortably at highway speeds without fear of losing grip, especially while accelerating or braking sharply.
However, Rubitrek is more stable on the road and has more traction than Wildpeak. Furthermore, it improves input to the driver and boosts overall confidence.
Wet Performance:
Both tires perform similarly in severe rain or stormy conditions. The tread cuts through the water well and keeps constant contact with the road, reducing the possibility of hydroplaning. 
On wet roads, one may drive securely at reasonable speeds without losing traction. In this instance, 
The Falken Rubitrek would win since it has a softer compound and higher tread depth than the Wildpeak, which would perform better.
Price and value:
Both tires have a variety of applications and functions. Although one is great for off-roading, the other is great for highway cruising. Regarding value, Both tires are good all-around AT tires.
The Falken Rubitrek ($155) is less priced than the Wildpeak ($163) for unknown reasons. Therefore, once again, the Rubitrek triumphs.
Which tire is best for you: Falken Rubitrek or Wildpeak?
The better you know what to expect from tires, the more informed decision you will be able to make on which tire you should choose for your ride.
If you are looking for a tire that provides comfortable and stable rides on highways and durability, then you should choose Falken Wildpeak.
On the other hand, if you are looking for a hybrid tread design that provides excellent off-road traction with enhanced grip and traction, you should go for Falken Rubitrek.
But you may still have many questions while choosing between the two. Let me make it more transparent for you.
Falken Rubitrek A/T All-Terrain Radial Tire
Features:
It features an 18 inches Rim Size that ensures a larger sidewall. 
It has a load index rating of 123 which means it will be able to load 3417 lbs
It has a speed rating of 'S' which means the maximum speed the tire can go is 112 mph.
This is a non-winter tire which means it will not be able to handle extreme conditions like driving on ice.
Falken Wildpeak A/T3W all_ Terrain Radial Tire
Features:
It features a 20-inch Rim size that enhances your SUV's speed as well as improves handling.
It has a load index rating of 115 which means it will be able to load approximately 2679 lbs
It has a speed rating of 'T' which means the maximum speed the tire can go to if 118 mph.
This is also a non-winter tire which means it will not be able to handle extreme conditions like driving on ice.
Maintenance Tips for Your Tires 
Maintaining all-terrain (A/T) tires may help them last longer and perform effectively on and off the road. Here are some simple tips:
Maintain adequate tire inflation to the specified PSI.
To guarantee even wear, rotate your tires regularly.
Inspect for any cuts, punctures, or other damage and have it fixed as soon as possible.
Avoid overloading your car since this might result in severe tire wear.
Maintain clean and debris-free tires.
Avoid driving aggressively since it might cause early tire wear.
If you intend to park your car for a lengthy period, keep it indoors and off the ground to avoid flat spots.
Frequently Asked Questions (FAQs): 
Are Falken Wildpeak good Tires?
Many drivers and industry experts regard Falken Wildpeak tires as good all-terrain tires. 
They are built to perform well on and off the road, with a two-ply sidewall structure for extra durability and puncture resistance and deep grooves for improved off-road grip. 
The Wildpeak is also intended to deliver a comfortable and stable highway ride.
Is Falken Rubitrek good tires for mud?
While it can manage light to moderate off-road situations, there may be better options for severe mud than Falken Wildpeak.
The Rubitrek has a hybrid tread design with aggressive shoulder blocks for increased off-road grip and a silica-enhanced compound for improved wet and dry performance.
Do Falken Rubitrek create noise?
Because of its aggressive tread pattern, the Falken Rubitrek, like other all-terrain tires, may make some noise while driving on the highway. 
However, because the Rubitrek is designed to deliver a smooth and stable highway ride, any noise is expected to be limited.
Are Falken Rubitrek good tires?
Yes, Falken Rubitrek is considered a good tire. They feature a hybrid tread design with aggressive shoulder blocks for greater off-road grip and an enhanced compound for improved wet and dry performance.
While it is not recommended for deep mud terrain or extreme off-road driving, it is a flexible tire that can handle light to moderate off-road driving.
Conclusion:
Overall, the Falken Rubitrek and Wildpeak are high-quality all-terrain tires with a good mix of on and off-road performance. 
With wider tread blocks and deeper grooves, the Wildpeak is better suited for more aggressive off-road use, and the Rubitrek is better suited for light to moderate off-road driving while still delivering a pleasant ride on roads.
Finally, the decision between the two tires will be determined by the driver's unique demands and the driving they want to conduct.