Hey there! This post contains affiliate links to products. We may receive a commission for purchases made through these links. But it never influences our product selection process.
The 5.7 Hemi engine is a popular engine widely used in the 1966-1970 Dodge coronet/ Plymouth Belvedere. It is supposed to be the best engine, but you may experience inconsistency in performance. One of the major culprits can be the incorrect oil pressure of your 5.7 Hemi engine. To solve this issue, you should know how to troubleshoot 5.7 hemi oil pressure problems. 
You may face 5.7 hemi oil pressure problems for several reasons such as viscosity, low oil level, sensor, etc. After identifying the issues, you can fix them by yourself. Each problem comes with individual solutions. 
Today, I will discuss all the problems and solutions and help you to save a considerable repair cost. It will be easier to solve oil pressure problems once you know why it happens.
How important is oil pressure for Hemi 5.7
Like every engine, regular oil pressure is a must for the smooth and long-lasting performance of 5.7 Hemi. Oil maintains the lubrication level, and the right lubrication ensures the smooth movement of engine parts.
The engine has a complex array of parts continuously moving and rubbing with each other. If they are not adequately lubricated, they will damage because of too much resistance and friction.
Over time problems will increase, and your engine will become dead or useless.  You will need to spend a lot on repairing or replacing the engine. So, keeping an eye on the engine oil pressure gauge to protect your engine from damage is better. You may also be interested in these articles: How to remove stuck oil pressure relief valve
5.7 Hemi oil pressure problems: Problem & Solutions
For a quick and proper solution to 5.7 Hemi oil pressure issues, it is necessary to know the cause first. After identifying the cause, you can fix it in a better way. If you notice the oil pressure is incorrect, then the following can be causes for the oil pressure problems.
Low Oil Level
Malfunctioned Oil pressure sensor
Failure of the oil pump
Oil Viscosity
Faulty oil Filter
Here is a list of easy solutions for oil pressure problems and ways to identify the cause before solving it.
Problem 1: Low Oil Level
It is a must to have recommended oil level for the best lubrication and excellent performance of a 5.7 hemi engine. 
If the oil level goes down to the recommended level, your engine will start producing noise. 
Over time you may experience wear and tear of different parts and even engine seizing.
Solution 1:
It is easy to identify the oil level problems; follow the simple steps below to ensure the correct oil level.
Remove the oil tank cap
Insert the oil gauge in the oil tank to know the oil level. It can be tricky, so use a gauge that ensures correct reading. GROX Drum Level Indicator can be an affordable gauge. It is simple to operate and ensures 100% accuracy.
If the pressure level is below the recommended level, fill the tank with oil
Problem 2: Malfunctioned Oil Pressure Sensor
Repeated blinking on the dashboard, wrong reading of oil level, and turning on oil pressure lights are some common signs of 5.7 hemi oil pressure sensor problems. 
If you have a problem with the oil sensor, you will fail to get the correct oil pressure level. Ultimately, your engine performance downs.
Solution 2:
The oil sensor in the hemi engine is located near the bottom or, in some models, between the oil filter and pan. First, find it; once located, it will be easy to test and replace if needed.
Your oil sensor reading should be between 25-65 psi. If it is not, you must test the sensor.
You will need a multimeter; you can use any of the available. But if you do not have then the 3320- Auto-ranging digital multimeter by Innova can be an excellent multimeter. It is simple but provides accurate readings.
Connect the sensor to the multimeter and test the reading; it should be 0 ohms. If the reading is not 0 ohms, you have a problem with the sensor, which needs replacement.
 Disconnect the sensor from the battery
Raise your vehicle by using the jack
Disconnect the electrical connector attached to the oil sensor
Loosen the oil sensor screws and remove it
Screw the new oil pressure sensor. I recommend Dorman 926-188 Engine oil pressure sensor. It is compatible with the hemi 5.7 engine and performs excellently.
Problem 3: Failure of the Oil Pump
If the oil pump fails to perform its duties, you may experience low or high oil pressure problems. A worn-out oil pump can generate high pressure that may create noise. It is better to replace the oil pump to eliminate the problem.
Solution 3:
Check for the oil pump in the lower part of the 5.7 hemi engine or near the crankshaft.
Look and examine the oil pump; if it is worn, replace it. DNJ OP1163 can be an excellent replacement for a 5.7 hemi oil pump
Unscrew the oil pump from both ends, but ensure the oil pump has no oil running. It is better to switch off the vehicle a minimum of 30 minutes before replacing the pump
Pull the bad oil pump and install the new one
Problem 4: Oil Viscosity
Oil viscosity is very important for the engine's best performance and lubrication. If you have more viscous oil than the recommended, you may face low-pressure problems. 
Low viscosity can be the cause of high-pressure problems. So you must check and ensure the recommended viscosity level for a good oil pressure for the hemi 5.7 engine.
Solution 4:
You can go with different oil types for your 5.7 hemi engine. But experts recommend SAE 5W-20 oil. 
It ensures the right viscosity level to maintain the pressure and engine performance at its highest. Valvoline Advanced Full Synthetic SAE 5W-20 Motor Oil is the most recommended oil for the hemi 5.7 engine.
Problem 5: Faulty Oil Filter
A clogged or leaking oil filter can cause high or low oil pressure problems. So it is a must to repair or replace the oil filter for the best performance of the 5.7 hemi engine.
Solution 5:
Look at the bottom or top; you can see the filter is coming from the engine block
If the oil filter leak, repair it with 394468 duct tape by The Original brand. If the leakage is massive, go for a replacement.
Arrange for an excellent oil filter for replacement. I recommend Genuine Chrysler Engine Oil filter for 5.7 hemi.
Unscrew the screws and remove the oil filter, then install the new filter in its place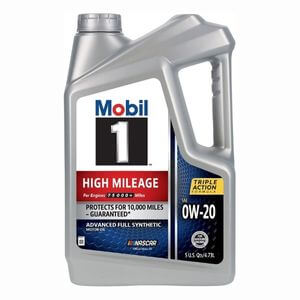 Mobil 1 High Mileage Full Synthetic Motor Oil 0W-20
Use Mobil 1 High Mileage 5W-20 motor oil for a 5.7 hemi engine. It is a fully synthetic oil that ensures coverage of more than 75000 miles. You will get the incredible performance and protection of the engine.
It is designed under ILSAC GF-6 standards that offer protection from timing chain wear and low-speed pre-ignition. Your 5.7 hemi engine gets a shield against high heat up to 500 F and low temperature up to -30 F.  It improves engine life and performance to the maximum level.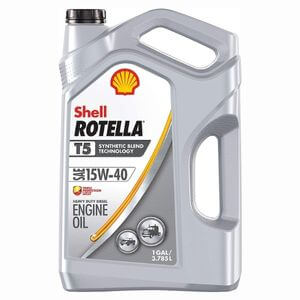 Shell Rotella T5 Synthetic Blend 15W-40 Diesel Engine Oil
You can choose 15W-40 Diesel Engine Oil by Shell Rotell for the diesel engine. It has triple protection technology to protect from deposits, oil breakdown, and wear. You will find it best for 5.7 hemi engine and many other heavy-duty machines.
You will find it compatible with all temperatures. It ensures smooth flow at low and high temperatures for consistent oil flow to the engine. The oil has an excellent formula to help you to extend the oil drain intervals and cover more miles than other oils.
Frequently Asked Questions (FAQs):
What should the oil pressure be on a 5.7 hemi?
For the 5.7 hemi engine, 25-65 psi is recommended for oil pressure.
How to check oil pressure on 5.7 hemi?
Use an Oil gauge for accurate checking of the oil pressure.
What should my oil pressure be at idle 5.7 hemi?
At idle 5.7 hemi oil pressure is between 35-50 psi.
What should the oil pressure be on a dodge ram 1500?
The recommended oil pressure on a dodge ram 1500 is 25-65 psi.
Where is the oil pressure sensor on a 5.7 hemi?
It is located near the bottom of the cylinder head in the engine's base area.
Final Verdict
Oil Pressure is an essential factor for every engine to maintain lubrication. You should have the correct pressure level for correct lubrication to maintain smooth movements of engine parts. 
With an incorrect pressure level, you may face multiple engine problems. It may lead to the repair or replacement of the engine. But quickly identifying the oil pressure problem and fixation can save you a lot.