Hey there! This post contains affiliate links to products. We may receive a commission for purchases made through these links. But it never influences our product selection process.
You agree or not, the 2001s Chevy Silverado is a great choice as a mid-range performance car. But one thing that bothers people a lot about this model is the AC system. It has some noticeable issues that you can find either when the car gets old or bought recently. Don't worry, you can fix your 2001 Chevy Silverado Air Conditioning Problems if you know the reasons behind this and troubleshooting procedures.
Before start fixing problems, you have to identify why your Chevy Silverado air conditioning isn't working. It may happen due to the following reasons: leakage, debris buildup, and aging without being used. But the specific cause behind a problem can only be found when you exactly know what's going wrong.
After that, you should know the troubleshooting procedures. Here I will discuss 5 different problems mostly found in the Chevy Silverado's air cooling system and the proper methods to solve them.
You may also like: Chevy 6.0 oil pressure issues
Common 5 Chevy Silverado Air Conditioning Problems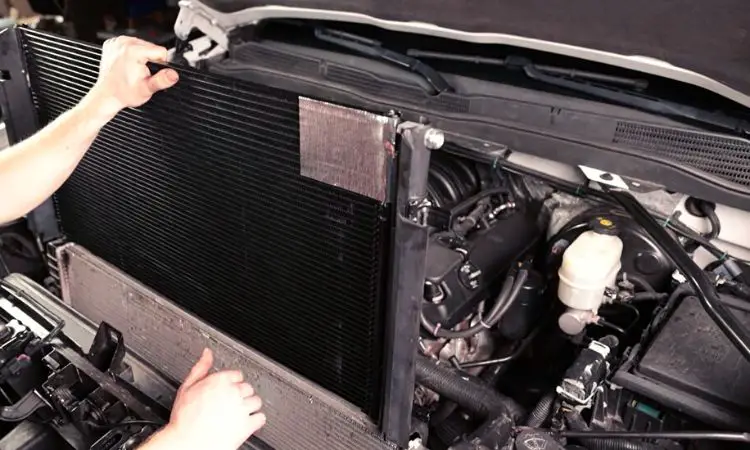 2001 Chevy Silverado 1500 air conditioning problems can also be seen in other Chevy models from the latest years.
So, even though the article is focusing on 2001 Silverado issues, the discussion might come in handy and match your situation.
So, let's check out the problems and their possible causes. Or, you can watch this video if you don't have the time to go into detail.
01. AC not Cooling:
A very common issue I all find in old Silverado models is the AC is turned on and seems in a good shape, yet, the car interior isn't cool enough. It is because there might be one or two leaking spots in the cooling system that leaks refrigerant.
Refrigerant loss is the primary reason why 2000 or 2001 Chevy Silverado A/C not working. The refrigerant stays in the loop of the AC to run the whole cooling process.
The amount of refrigerant loss after a year of consecutive use is around 10-15%. But if there's any leak around, the rate can go down to 60-80%. The leakage can be anywhere in the hoses, evaporator, condenser, etc.
Possible Reasons:
Your Chevy won't make the interior cooler when you forget to refill the system with refrigerant. And if you keep your AC system idle for months, it can become defective and get leaked.
Because a sudden user after a long period gives shocks to the condenser and damages badly. Besides, an AC component can get leaking spots because of aging and consecutive uses.
Solution:
02. AC Air Smelling Bad:
From an old car AC, bad smells can come out when you don't use any perfume or air freshener. Many might think something stinky is inside the car. But in reality, an unclean and clogged AC punishes your nose pretty hard.
Possible Reasons:
Dirt and molds deposit mainly in the evaporator and air filters when you use the AC at max setting. Also, cleaning the AC system rarely creates a foul smell.
Solution:
Remove the dashboard and clean it separately.
When the dashboard's removed, you can gain access to the evaporator to clean properly.
Use Biocide 100 Multi-Purpose Cleaner to eliminate bacteria and mold from the AC.
Replace the filters and evaporator if required.
03. AC Blowing Hot Air:
Among all the 2001 chevy Silverado climate control problems, having hot air instead of a cool breeze from the dashboard is a very disturbing issue.
It is a sign of your main components like the evaporator and condenser getting damaged or blocked strongly.
Possible Reasons:
The condenser, evaporator, and radiator work together to make refrigerant cool and pass through every necessary component.
The related valves also take some crucial action in it. However, if debris or dirt goes inside those valves and components, the gateway of hot refrigerant gets blocked.
due to this, the dashboard only releases hot air because the hot refrigerant doesn't get any chance to get cool.
Solution:
The parts related to the problem have pretty complex and mini construction. That's why it's best to take your car to a garage as soon as possible.
04. AC Sounds Weird: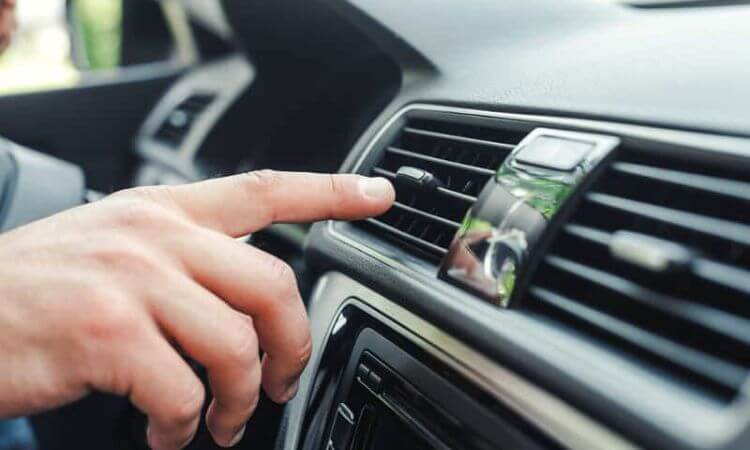 Many of us have felt this issue but I ignore it most of the time. When the car AC starts to make some weird noise, I think it's because of the lack of power, fuel, etc. But mainly, the broken clutch or compressor is the main culprit that makes air cooling so noisy.
You may also like: Chevy Silverado gear shifter not working
Possible Reasons:
The compressor or any of the bearings can get corroded and cause an unusual sound. You can also hear something rattling inside. Along with that, the fouled blower motor also makes some bad noises due to decreased airflow.
Solution:
Check the blower fan first. If it's working slowly, then replace it with a new one. My choice is AC Heater Blower Motor.
If it doesn't help, change the bad compressor or compressor clutch as soon as possible.
05. AC not Responding or Turning on:
The worst-case scenario can be your Silverado's AC isn't working at all. It means either the AC has become disconnected from the power or any of the main components is completely dead.
Possible Reasons:
Anything can be the reason why the AC becomes idle. It can be the fouled fuse, burnt wires, broken compressor, etc. You can't be sure what's the cause unless you go for a deep check.
Solution:
First of all, you need to check the electric connections of the AC. A loose or dead connection can be the reason why the 1994 chevy AC not working. You can easily find the replacements of the fuses and wires from any automobile store.
If that's not the case. Bring out all the components of the AC and check them manually. Surely, anything damaged is stopping the air cooling from working.
You can also go seek help from a mechanic to ease the work. But you must remember that an expert won't take anything less than 200$ for inspecting your car properly.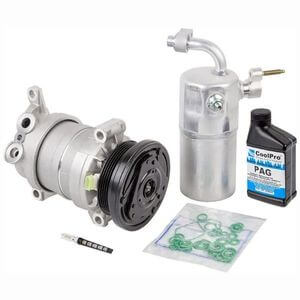 AC Compressor & A/C Repair Kit For Chevy Silverado 2001
If you find your Chevy Silverado air conditioning totally damaged, you can try this AC Compressor & A/C Repair Kit by BUYAUTOPARTS! It is a perfect fit for Chevy Silverado 2000 and 20001 models. With this kit, you will find the following things:
correct viscosity PAG oil
Complete vehicle-specific o-ring seal kit
New expansion device
New accumulator/receiver drier/desiccant and 
premium quality A/C compressor with clutch (100% brand new) 
Although it creates little noise when installed at first but it cools really well.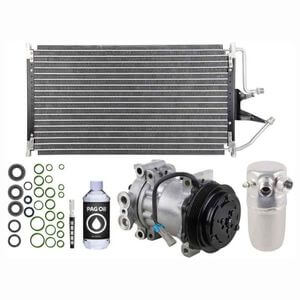 A/C Kit w/AC Compressor Condenser & Drier For Chevy Silverado
This A/C Kit w/AC Compressor Condenser by BuyAutoParts could be your second choice. This Compressor Condenser is designed for superior durability and is backed by an industry-leading 2-year warranty. With this kit, you will find the following things: 
oil and O-ring seals
expansion valve
drier filter
Condenser and 
compressor with clutch
This A/C Kit is compatible with 1996-99 Chevy Tahoe, GMC Yukon,  and 2001-02 C3500.
Frequently Asked Questions (FAQs)
How do you reset an AC Silverado?
To reset the AC in your Silverado, you need to keep the HVAC fuse unplugged for 10-30 seconds. The HVAC fuse is under the hood of your car. You can easily unplug it with your hands. But make sure the car engine is off while doing so.
What happens if AC sensor is not working?
If the AC sensor stops working, the temperature inside your car can be either too hot or too cold.
How much does it cost to replace an AC compressor?
The price of compressors for SUVs and Sedans isn't less than $600. But the price might vary depending on the model and availability of the compressor.
Summary
So, these are the commonly found 2001 Chevy Silverado air conditioning problems. Apart from them, there are some other problems like water dripping under the dashboard, actuator behaving abnormally, etc. But the main problems are those 5 discussed above.
It's true that fixing a car AC would cost you more than $1000 or so if you go to a garage and seek +deep testing. So, you better try to reduce the cost as much as possible.
You can do so by following the troubleshooting mentioned right below each problem above. I hope you've found the discussion useful and wish to revisit us to get to know more about Chevy Silverado.